Houston, TX Cash Advance Loans
VIEW OUR ONLINE LISTING OF Houston, TX CASH ADVANCE AND DIRECT PAYDAY LOAN LENDERS
Request a Loan Today*
*By filling out the form above, you will be routed to OpenCashAdvance.com's loan request form.
Advantages of Taking out Payday Loan in Houston
Payday loans in Houston, TX are sometimes used by consumers who need a little bit of extra help with their finances during tough times. Those searching for this form of funding, which may be available to those of all credit types, may benefit from viewing the list of local options below. The lenders below are just a few of the cash advance Houston, TX lenders that can help consumers receive a fast loan. The application process is typically much simpler than a bank loan, and this type of short term loan is perfect for emergency situations. Borrowers turn to cash advance Houston lenders due to a number of reasons. For example, borrowers may be experiencing an emergency where they need a few hundred dollars but simply do not have it in their bank account. In this case, they can turn to a local lender who will provide them the credit they need until they get paid again. While many lenders operate out of local Houston brick-and-mortar stores, others can be found online. Online payday loans Houston lenders may ask borrowers to either fax in the requirements they need for a loan or upload copies of paperwork via email. Potential borrowers should make sure they understand all of the lender's policies.
Why Are There So Many Lenders in Houston?
Some might say the reason for Houston's high number of cash advance locations is because of Texas's relatively lax regulations. (These statutes don't define a maximum loan amount and allow for higher-than-average fees.) But that claim doesn't add up because Houston has its own unique ordinances that limit cash advance loans to 20-percent of what a potential borrower makes each month. Plus, single-payment cash advances can't be refinanced more than three times. And with each refinancing, the principal owed has to go down by at least 25-percent. So, why is the cash advance industry thriving in Houston in spite of the city ordinances? Here are a few reasons we came up with:
Houston has a high poverty rate. According to the United States Census Bureau (USCB), Houston had a 22.9-percent poverty rate from 2009 to 2013. That's over 5-percent higher than the state average. It means nearly a quarter of the people living in Houston are below the poverty level. It's been shown that areas with high poverty levels tend to have more cash advance locations. This could be one explanation for why there is an abundance of lenders in Houston.
Those city ordinances are fairly new. Houston adopted its cash advance ordinances just over a year ago. Before that lenders likely enjoyed higher profits and may have opened up shop because of Texas's lighter restrictions. The ordinances might eventually force some lenders to close up shop in Houston. That could be bad for the consumer. History shows that it's usually the smaller shops that close first. The chains can survive for longer and the chains typically have higher rates and fees.
Texans are known for getting into debt. Whenever you see a story about which states have people with the most debt, Texas is always near the top of the list. Recently, CNBC compared the average credit card debt of metro areas across the country. Houston had an average balance of nearly $5,000. What's worse – the median earnings for the city are far lower than other areas with that high of debt, which suggests that it'll take longer for Texans to climb out of debt than people from wealthier cities. When you consider that the biggest reason people take out cash advance loans is to help pay off their other debts, Texas's high debt amount might explain Houston's high number of cash advance locations.
With federal cash advance regulations looming on the horizon, it's hard to tell what the future of cash advances in Houston will be. For now, though, business is booming.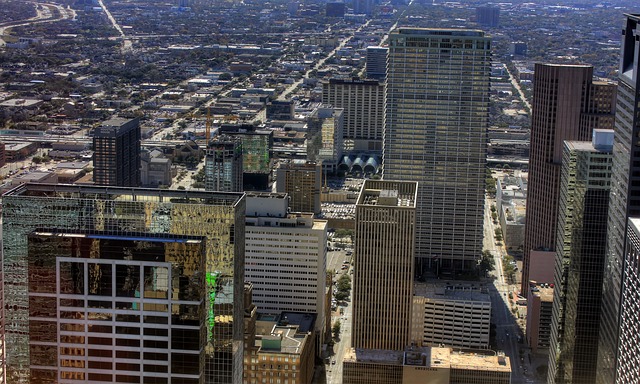 Other Successful Businesses in Houston
Houston's economy is made up of more than cash advance stores. Here are a few other areas that really shine:
Houston is home to some of the top publicly traded companies in the U.S., including Phillips 66, Sysco, and Halliburton.
Houston has one of the busiest ports in the world, importing and exporting hundreds of millions of tons of cargo each year.
The U.S. Bureau of Statistics named Houston the top city for job creation in the U.S. in 2013. The city regularly appears on "Best of" lists for businesses and careers.
There are several successful sports teams in Houston. The Houston Rockets is an NBA team that has won two championships. Houston also has an NFL team (Houston Texans), MLB team (Houston Astros), and an MLS franchise (Houston Dynamo). In fact, the only professional league that Houston isn't a part of is the NHL.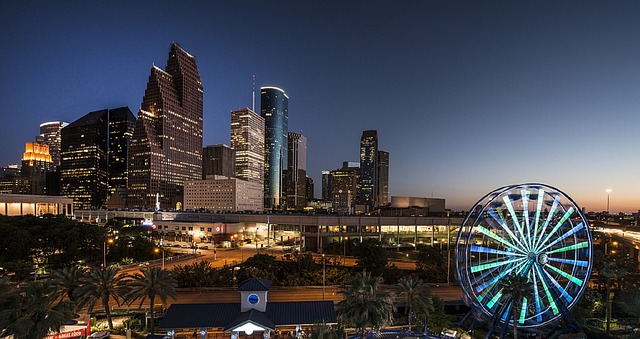 Hurricanes and Cash Advances
Since Houston is located next to the Gulf of Mexico, it is occasionally bombarded by bad tropical weather, sometimes in the form of hurricanes. This can lead to city-wide evacuations, destruction, and serious economic downturns. Fortunately, the city has been able to recover from each of its devastating storms. The most recent big Houston area storm was Hurricane Ike, which caused over $30 billion in damage. For many of those who weren't insured, this meant losing everything and having to start from scratch.
Chances are at least a few of these people turned to cash advance loans to pay the bills. While cash advances aren't often associated with hurricanes, they can be a boon to those undergoing the unfortunate aftermath of something as horrible as a hurricane. From home repairs to medical bills to money for temporary lodging, a cash advance can help fund your temporary expenses as you weather the bad weather. If you need to take out a cash advance right now, we can help you find a lender.
Simply fill out our loan request form to get started. We'll run your information through our complex algorithms and find you a lender. We care about conversion, so we try to match each potential borrower with the lender that wants them the most. That means you may have a better chance of getting a loan than if you just walked into a random cash advance Houston location.
*OpenCashAdvance.com strives to present accurate information; however, we do not guarantee accuracy of data as presented.
Favorite Houston, TX Cash Advance and Payday Loan Companies
Company name
Address
Phone
1 PERCENT CHECK CASH
123 Bedford St Houston TX, 77012
713-923-2270
1ST CLASS FLNANCIAL SERVICES I
8503 Gulf Fwy Houston TX, 77017
713-941-4194
786 Check Cashing
12550 Bellaire Blvd Houston TX, 77072
281-564-2007
A & A Velasco Services Inc
1857 Bingle Rd Houston TX, 77055
713-464-2727
A 1 Check Cashing Ii
6101 Glenmont Drive Houston TX, 77081
713-270-4777
A A Check Cashing Inc
6065 Hillcroft Street Suite 104 Houston TX, 77081
713-774-4307
A ACTION CHECK CASHING
5422 Highway 6 N Houston TX, 77084
281-550-9598
A Action Check Cashing Llc
5422 Highway 6 North Houston TX, 77084
281-550-9598
A&B Payday Loan Check Cashing
12138 Fondren Rd Houston TX, 77035
713-729-6255
A1 CHECK CASHING
6101 Glenmont Dr Houston TX, 77081
713-270-4777
Aa Check Cashing
5930 Renwick Drive Houston TX, 77081
713-839-0145
Aa Check Cashing
6345 Windswept Lane Suite C Houston TX, 77057
713-266-5063
AA CHECK CASHING
5930 Renwick Dr Houston TX, 77081
713-839-0145
Aaa Accept Credit Cards
9851 Meadowglen Lane #221 Houston TX, 77042
713-789-5331
Ace Americas Cash
2981 Bingle Road Houston TX, 77055
713-463-7954
ACE AMERICAS CASH EXPRESS
10994 Fuqua St # B Houston TX, 77089
281-484-7711
ACE AMERICAS CASH EXPRESS
1734 W Mount Houston Rd Houston TX, 77038
281-448-7668
ACE AMERICAS CASH EXPRESS
1019 Dairy Ashford St # A Houston TX, 77079
281-920-0237
ACE AMERICAS CASH EXPRESS
1019 Dairy Ashford St Apt A Houston TX, 77079
281-920-0237
ACE AMERICAS CASH EXPRESS
1401 a First St Houston TX, 77001
281-342-5266
ACE AMERICAS CASH EXPRESS
6410 Martin Luther King Jr Blv Houston TX, 77033
713-264-6516
ACE AMERICAS CASH EXPRESS
10990 North Fwy Houston TX, 77037
281-445-6018
Ace Cash Express
10959 Fm 1960 Road West Houston TX, 77070
832-912-1794
ACE CASH EXPRESS
11843 Bissonnet St Houston TX, 77099
281-933-4100
ACE CASH EXPRESS
14708 Hiram Clarke Rd Houston TX, 77053
713-413-9548
ACE CASH EXPRESS
4718 Bicentennial Ct Houston TX, 77066
281-447-0414
ACE CASH EXPRESS
11130 Gulf Fwy Houston TX, 77034
713-378-9521
ACE CASH EXPRESS
11840 Westheimer Rd Houston TX, 77077
281-584-9823
ACE CASH EXPRESS
11890 Westheimer Rd Houston TX, 77077
281-558-1456
ACE CASH EXPRESS
8602 Broadway St Houston TX, 77061
713-649-1015
ACE CASH EXPRESS
732 Greens Rd Houston TX, 77060
281-448-6826
ACE CASH EXPRESS
8705 W Bellfort St Houston TX, 77031
713-981-4782
ACE CASH EXPRESS
13110 Fm 529 Rd Ste 2 Houston TX, 77041
713-896-8080
ACE CASH EXPRESS
5711 W Sam Houston Pkwy N Houston TX, 77041
832-467-2233
ACE CASH EXPRESS
8304 Broadway St Houston TX, 77061
713-641-2274
ACE CASH EXPRESS
10008 Gulf Fwy Ste A Houston TX, 77034
713-948-0313
ACE CASH EXPRESS
1710 Fm 1960 Rd W Houston TX, 77090
281-583-0222
ACE CASH EXPRESS
5788 Bingle Rd Houston TX, 77092
713-680-8645
ACE CASH EXPRESS
5340 W 34th St Houston TX, 77092
713-680-2446
ACE CASH EXPRESS
1811 Wirt Rd Ste A Houston TX, 77055
713-463-3756
ACE CASH EXPRESS
6464 W Little York Rd Ste A Houston TX, 77091
713-466-0198
ACE CASH EXPRESS
10990 C I-45 N Houston TX, 77001
281-445-6078
ACE CASH EXPRESS
3516 S Shepherd Dr Houston TX, 77098
713-522-8186
ACE CASH EXPRESS
2533 Southmore Blvd Houston TX, 77004
713-520-0655
ACE CASH EXPRESS
663 Rouse St Houston TX, 77020
713-672-3994
ACE CASH EXPRESS
5104 Harrisburg Blvd Ste 300 Houston TX, 77011
713-514-0928
ACE CASH EXPRESS
3102 Wuthering Heights Dr Houston TX, 77045
713-413-9548
ACE CASH EXPRESS
8708 S Gessner Dr Houston TX, 77074
713-777-3101
ACE CASH EXPRESS
11338 Chimney Rock Rd Houston TX, 77035
713-721-3739
ACE CASH EXPRESS
10804 S Post Oak Rd Ste 350 Houston TX, 77035
713-283-5441
ACE CASH EXPRESS
11386 Fondren Rd Houston TX, 77035
713-721-9692
ACE CASH EXPRESS
7614 Clarewood Dr Houston TX, 77036
713-777-2274
ACE CASH EXPRESS
8631 Beechnut St Houston TX, 77036
713-271-7485
ACE CASH EXPRESS
10434 Richmond Ave Houston TX, 77042
713-914-0004
ACE CASH EXPRESS
6408 Martin Luther King Jr Blv Houston TX, 77033
713-738-5924
ACE CASH EXPRESS
7346 Iwo Jima Rd Houston TX, 77033
713-738-5924
ACE CASH EXPRESS
6123 Telephone Rd Houston TX, 77087
713-644-6589
ACE CASH EXPRESS
7518 Richmond Ave Houston TX, 77063
713-784-7137
ACE CASH EXPRESS
7334 Antoine Dr Houston TX, 77088
281-999-7583
ACE CASH EXPRESS
11103 Briar Forest Dr Houston TX, 77042
713-789-3761
Ace Cash Express Inc
2001 Fannin St Houston TX, 77002
713-654-8087
Ace Cash Express Inc
1801 Ella Blvd Ste B Houston TX, 77008
713-880-8715
Ace Cash Express Inc
2015 Yale St Houston TX, 77008
713-868-1096
Ace Cash Express Inc
12603 Market Street Rd Houston TX, 77015
713-453-4800
Ace Cash Express Inc
928 E Tidwell Rd Houston TX, 77022
713-691-9066
Ace Cash Express Inc
13509 Northwest Fwy Houston TX, 77040
713-690-2274
Ace Cash Express Inc
9539 S Main St Houston TX, 77025
713-665-2262
Ace Cash Express Inc
8311 Long Point Rd Houston TX, 77055
713-984-2274
Ace Cash Express Inc
5806 Bellfort St Houston TX, 77033
713-733-7777
Ace Cash Express Inc
10008A Gulf Fwy Houston TX, 77034
713-948-0313
Ace Cash Express Inc
5201 Richmond Ave Ste E Houston TX, 77056
713-626-2628
Ace Cash Express Inc
6239 Westheimer Rd Houston TX, 77057
713-789-7775
Ace Cash Express Inc
6010 S Gessner Dr Houston TX, 77036
713-995-9537
Ace Cash Express Inc
1205 Bay Area Blvd Houston TX, 77058
281-488-2712
Ace Cash Express Inc
732 Greens Rd Houston TX, 77060
713-448-7715
Ace Cash Express Inc
11401 North Fwy Houston TX, 77060
281-999-2060
Ace Cash Express Inc
13946 Westheimer Rd Houston TX, 77077
281-556-5089
Ace Cash Express Inc
8366 Westheimer Rd Houston TX, 77063
713-914-0997
Ace Cash Express Inc
9690 Mesa Dr Houston TX, 77078
713-635-6325
Ace Cash Express Inc
203 W Greens Rd Houston TX, 77067
281-875-3223
Ace Cash Express Inc
1029 Highway 6 N Ste 900 Houston TX, 77079
281-492-1361
Ace Cash Express Inc
4507 Fm 1960 Rd W Houston TX, 77069
281-444-2714
Ace Cash Express Inc
1414 Gessner Dr Houston TX, 77080
713-461-2194
Ace Cash Express Inc
10959 Fm 1960 Rd W Houston TX, 77070
832-912-1794
Ace Cash Express Inc
6475 Hillcroft St Houston TX, 77081
713-773-1450
Ace Cash Express Inc
7542 W Bellfort St Houston TX, 77071
713-270-4810
Ace Cash Express Inc
5510 Bellaire Blvd Ste B Houston TX, 77081
713-666-7384
Ace Cash Express Inc
8708 S Gessner Dr Ste B Houston TX, 77074
713-777-3101
Ace Cash Express Inc
13640 Tomball Pkwy Houston TX, 77086
281-591-6671
Ace Cash Express Inc
11210 Hempstead Rd Houston TX, 77092
713-686-0475
Ace Cash Express Inc
9790 Fondren Rd Houston TX, 77096
713-270-2086
Ace Cash Express Inc
11843 Bissonnet St Houston TX, 77099
713-933-4100
Ace Cash Express Inc
9 Uvalde Rd Ste 3 Houston TX, 77015
713-451-6400
Ace Cash Express Inc
13315 East Fwy Houston TX, 77015
713-450-9793
Ace Cash Express Inc
4502A Griggs Rd Houston TX, 77021
713-741-6162
Ace Cash Express Inc
4450 North Fwy Houston TX, 77022
713-694-1596
ACE CASH EXPRESS STORE LOCATIO
10994b Fuqua St Houston TX, 77089
281-484-7713
Ace Check Cashing
5411 North Sam Houston Parkway East Houston TX, 77032
281-991-7977
Action Check Cashing
6330 Antoine Drive Houston TX, 77091
713-956-2800
ACTION CHECK EXPRESS
8989 Westheimer Rd Houston TX, 77063
832-251-6333
Ad Masters
5718 Westheimer Road Suite 1515 Houston TX, 77057
713-953-1000
Advance America
2018 Fm 1960 Road West Houston TX, 77090
281-537-1632
Advance America
10255 North Freeway Houston TX, 77037
281-931-6356
Advance America
13139 Veterans Memorial Drive Houston TX, 77014
281-893-5360
Advance America
11243 Veterans Memorial Drive Houston TX, 77067
281-880-9843
Advance America
12132 Sabo Road Houston TX, 77089
281-481-8301
Advance America
210 West Greens Road Suite I Houston TX, 77067
281-873-8361
Advance America
10870 Fm 1960 Road West Houston TX, 77070
281-477-8741
Advance America
330 West Little York Road Houston TX, 77076
281-820-2821
Advance America
2687 Highway 6 South Houston TX, 77082
281-596-0893
Advance America
12637 Westheimer Road Houston TX, 77077
281-589-6871
Advance America
13234 Bellaire Boulevard Houston TX, 77083
281-575-0516
Advance America
12430 State Highway 249 Houston TX, 77086
281-272-6734
Advance America
10132 Hammerly Boulevard Houston TX, 77080
713-935-9617
Advance America
7800 Long Point Road Houston TX, 77055
713-688-0334
Advance America
8574 Westheimer Road Houston TX, 77063
713-532-4175
Advance America
1049 Blalock Road Houston TX, 77055
713-463-6470
Advance America
13280 Northwest Freeway Houston TX, 77040
713-462-4511
Advance America
11035 Fuqua Street Houston TX, 77089
713-378-6317
Advance America
453 Uvalde Road Houston TX, 77015
713-330-8207
Advance America
5370 West 34Th Street Houston TX, 77092
713-683-9126
ADVANCE AMERICA
330 W Little York Rd Houston TX, 77076
281-820-2821
ADVANCE AMERICA
6923 Antoine Dr Houston TX, 77091
713-688-3910
ADVANCE AMERICA
2808 N Shepherd Dr Houston TX, 77008
713-861-0748
ADVANCE AMERICA
1305 W 11th St Houston TX, 77008
713-864-0831
ADVANCE AMERICA
2445 Fulton St Ste C Houston TX, 77009
713-224-5680
ADVANCE AMERICA
14121 Northwest Hwy Houston TX, 77001
713-462-4835
ADVANCE AMERICA
10904 Scarsdale Blvd Ste 340 Houston TX, 77089
281-464-7309
ADVANCE AMERICA
13139 Veterans Memorial Dr Houston TX, 77014
281-893-5360
ADVANCE AMERICA
11583 S Wilcrest Dr Houston TX, 77099
281-575-7601
ADVANCE AMERICA
11581 S Wilcrest Dr Houston TX, 77099
281-575-7601
ADVANCE AMERICA
453 Uvalde Rd Houston TX, 77015
713-330-8207
ADVANCE AMERICA
210 W Greens Rd Houston TX, 77067
281-873-8361
ADVANCE AMERICA
8550 S Braeswood Blvd Ste C Houston TX, 77071
713-779-9007
ADVANCE AMERICA
12132 Sabo Rd Houston TX, 77089
281-481-8301
ADVANCE AMERICA
11035 Fuqua St Houston TX, 77089
713-378-6317
ADVANCE AMERICA
2348 Fry Rd Houston TX, 77084
281-398-6775
ADVANCE AMERICA
4500 Highway 6 N Houston TX, 77084
281-858-7980
ADVANCE AMERICA
2018 Fm 1960 Rd W Houston TX, 77090
281-537-1632
ADVANCE AMERICA
15002 Ella Blvd Houston TX, 77090
281-877-8282
ADVANCE AMERICA
13234 Bellaire Blvd Houston TX, 77083
281-575-0516
ADVANCE AMERICA
8602 Broadway St Houston TX, 77061
713-644-0762
ADVANCE AMERICA
1049 Blalock Rd Houston TX, 77055
713-463-6470
ADVANCE AMERICA
5915 Chimney Rock Rd Houston TX, 77081
713-664-8378
ADVANCE AMERICA
7800 Long Point Rd Ste B Houston TX, 77055
713-688-0334
Advance America Cash Advance
1032 Hammerly Boulevard Houston TX, 77002
713-935-9617
Advance America Cash Advance
9600 Fondren Road Houston TX, 77096
713-774-2659
Advance America Cash Advance
10511 Eastex Freeway Houston TX, 77093
713-691-3462
Advance America Cash Advance
13234 Bellaire Boulevard Houston TX, 77083
281-589-6871
Advance America Cash Advance
2436 Fm 1960 Road East Houston TX, 77073
281-537-1632
Advantage Merchant Services
Houston Houston TX, 77002
713-460-3535
All Stop Food Market
3710 Harrisburg Boulevard Houston TX, 77003
713-229-9571
ALL STOP FOOD MARKET
3710 Harrisburg Blvd Houston TX, 77003
713-229-9571
Allstar Business Equipment Company
5918 West 34Th Street Houston TX, 77092
713-682-9383
Alperin Max-Paymaster Distributor
4660 Beechnut Street Suite 209 Houston TX, 77096
713-667-7541
America Transfers Inc
1834 Wirt Road Houston TX, 77055
713-688-4332
America Transfers Inc
7800 Bissonnet Street Houston TX, 77074
713-484-7496
America Transfers Inc
9501 Long Point Road Houston TX, 77055
713-464-8560
Aple Corporation
6101 Southwest Freeway Suite 213 Houston TX, 77057
713-664-6755
AUTHENTIPRINT
7211 Creek Crest Dr Houston TX, 77095
281-463-0545
Automated Business Systems
1426 Antoine Drive Houston TX, 77055
713-682-1919
Automated Financial Systems
4330 Highway 6 North Houston TX, 77084
281-855-6672
B & D Postal Service
386 West Little York Road Houston TX, 77076
281-820-9455
Barri Remittance Corporation
8000 Bissonnet Street Houston TX, 77074
713-981-7671
Barri Remittance Corporation
2064 Wirt Road Houston TX, 77055
713-290-8009
Bell Check Cashing
13084 Veterans Memorial Drive Houston TX, 77014
281-893-0737
BELL CHECK CASHING
13084 Veterans Memorial Dr Houston TX, 77014
281-893-0737
Bell Check Cashing 2
13084 Veterans Memorial Drive Houston TX, 77014
281-893-8436
Brothers Check Cashing
234 West Gray Street Houston TX, 77019
713-520-5454
BROTHERS CHECK CASHING
12028 Hempstead Rd Houston TX, 77092
713-973-9686
BROTHERS CHECK CASHING
8501 Long Point Rd Houston TX, 77055
713-973-9686
BROTHERS CHECK CASHING LLC
10071 Timberwood Dr Houston TX, 77080
713-468-3414
Brothers Jewelry & Loan
234 W Gray St Houston TX, 77019
713-520-5454
BUSINESS DEVELOPMENT
7575 Office City Dr Houston TX, 77012
713-643-8400
Buzzard Breath Check Cashers
9573 Fm 1960 Rd W Houston TX, 77070
281-955-7755
Buzzard Breath Check Cashing
9573 Fm 1960 Road West Houston TX, 77070
281-955-7755
CASH AMERICA
2414 Mooney Rd Houston TX, 77093
281-449-3680
Cash America Pawn - Southwest
13815 South Post Oak Road Houston TX, 77045
713-434-2455
Cash King
11710 Hempstead Road Houston TX, 77092
713-681-0223
Cash Partners Lp
714 Harvard St Houston TX, 77007
713-868-8070
Cash Plus
7575 Office City Drive Houston TX, 77012
713-643-8400
CASH PLUS
7575 Office City Dr Houston TX, 77012
713-643-2158
CASH PLUS INC
12950 S Post Oak Rd Houston TX, 77045
713-723-8200
CASH STORE
13706 East Fwy Ste 300 Houston TX, 77015
713-455-3180
CASH STORE
6078 Fry Rd Houston TX, 77001
888-950-2274
CASH STORE
Sh6 and Bissonnet by Kroger Houston TX, 77001
888-950-2274
Cash Xpress
9480 Long Point Rd Houston TX, 77055
713-467-1228
Cashbanc Inc
7614 Clarewood Drive Houston TX, 77036
713-777-2274
Cashbanc Inc
4445 West Fuqua Street Houston TX, 77045
713-434-9992
CASHWORKS INC
12655 Bissonnet St Houston TX, 77099
713-575-9522
Ccs - Sales
3100 Wilcrest Drive Houston TX, 77042
713-975-8200
Check And Cash Ii
3226 Fondren Road Houston TX, 77063
713-952-4325
Check Cashers
11798 South Wilcrest Drive Houston TX, 77099
281-564-2274
CHECK CASHING & BUSINESS SUPPO
2002 Fry Rd Ste 107 Houston TX, 77084
281-578-5594
Check Cashing & More
3131 Pawnee Street Houston TX, 77054
713-746-3600
Check Cashing & More
7426 Airline Drive Houston TX, 77076
713-691-1807
Check Cashing & More
5 Uvalde Road Houston TX, 77015
713-451-1355
CHECK CASHING & MORE
8800 W Sam Houston Pkwy S Houston TX, 77099
281-495-9020
CHECK CASHING & MORE
9525 S Kirkwood Rd Houston TX, 77099
281-879-7990
Check Cashing & More 726
5367 Antoine Drive Houston TX, 77091
713-681-3732
Check Cashing 727
8800 West Sam Houston Parkway South Houston TX, 77099
281-495-9020
CHECK CASHING SERVICES
3234 Fondren Rd Houston TX, 77063
713-914-0116
CHECK INTO CASH
1114 Freeport St Houston TX, 77015
713-450-2028
CHECK INTO CASH
8225 Broadway St Houston TX, 77061
713-644-2189
CHECK INTO CASH
5020 Fm 1960 Rd W Houston TX, 77069
281-893-2952
CHECK INTO CASH
5517 Airline Dr Houston TX, 77076
713-694-5999
CHECK INTO CASH
10961 North Fwy Houston TX, 77037
281-448-7593
CHECK N CASH
9914 S Gessner Dr Houston TX, 77071
713-771-4123
Check N Cash I
2456 South Dairy Ashford Street Houston TX, 77077
281-497-2274
CHECK N CASH I
2456 S Dairy Ashford St Houston TX, 77077
281-497-2274
Check Recovery Systems
525 North Sam Houston Parkway East Houston TX, 77060
281-940-1001
Checkcare Systems
Houston Houston TX, 77002
713-975-1783
Checkcare Systems Inc
3100 Wilcrest Drive Houston TX, 77042
713-954-5948
CHECKS & POSTAL EXPRESS
9247 S Main St Houston TX, 77025
713-839-0110
Clearchex Com
510 Bering Drive Suite 300 Houston TX, 77057
713-974-9333
Computer Cheque Services
Po Box 73408 Houston TX, 77273
402-827-5555
Credit Card Processing For Merchants
2719 Houston Ave Houston TX, 77009
800-829-9653
Csn Quick Cash
9898 Bissonnet Street Suite 592 Houston TX, 77036
713-772-2774
Cummins-Allison Corporation
10900 Brittmoore Park Drive Suite F Houston TX, 77041
713-466-8646
Custcatlan Service Inc
7856 Hillcroft Street Houston TX, 77081
713-270-5302
Daily Check Cashing
2403 Bay Area Boulevard Suite A Houston TX, 77058
281-286-1454
DAILY CHECK CASHING
2403 Bay Area Blvd Houston TX, 77058
281-286-1454
DIGIQUEST EPAY ELECTRONIC PAYM
1304 Langham Creek Dr Houston TX, 77084
281-829-2600
Dolex Dollar Express Inc
193 Aldine Bender Road Houston TX, 77060
281-999-1594
E Z CHECK
16211 Park Ten Pl Houston TX, 77084
281-647-6911
E Z MONEY
15901 S Post Oak Rd Houston TX, 77053
281-438-7000
El Guero Check Cashing
5526 Washington Avenue Houston TX, 77007
713-802-0221
EL GUERO CHECK CASHING
2030 Little York Rd Houston TX, 77093
713-694-1732
EL GUERO CHECK CASHING & AUTO
6812 Canal St Houston TX, 77011
713-924-4044
EL GUERO CHECK CASHING 4
7703 Long Point Rd Houston TX, 77055
713-683-9439
EL GUERO CHECK CASHING AND AUT
2012 W 34th St Houston TX, 77018
713-956-1144
EL GUERO CHECK CASHING AND AUT
5429 Mount Houston Rd Houston TX, 77093
281-449-6671
El Guero Llc
2030 Little York Rd Houston TX, 77093
713-691-7411
Electronic Filing Center
6073 Bissonnet Street Houston TX, 77081
713-349-8400
Elguero Check Cashing
2030 Little York Road Houston TX, 77093
713-691-7411
ELGUERO LLC
3308 Aldine Mail Rd Houston TX, 77039
281-449-2051
Eps & Associates Inc
11821 East Fwy Ste 315 Houston TX, 77029
713-455-6722
Eps And Associates
11821 East Freeway Houston TX, 77029
713-455-6722
EXPRESS TAX
12331 Fondren Rd Houston TX, 77035
713-723-2919
EZ CHECK CASHING
14121 Northwest Fwy Houston TX, 77040
713-460-4554
EZ MONEY
8751 Highway 6 S Houston TX, 77083
281-561-9531
EZ MONEY 44016
9631 Fondren Rd Houston TX, 77096
713-541-5706
EZ MONEY LOAN SERVICES
9335 Gulf Fwy Ste D Houston TX, 77017
713-946-2542
Fastfunding First Inc
Houston Houston TX, 77002
713-777-2371
First Cash Advance
5185 West 34Th Street Suite 200 Houston TX, 77092
713-476-9330
First Cash Advance
10701 North Freeway Houston TX, 77037
281-931-4383
First Cash Advance
2395 Highway 6 South Houston TX, 77077
281-589-0218
First Cash Advance
2036 Fm 1960 Road West Houston TX, 77090
281-580-5004
FIRST CASH ADVANCE
11460 Fuqua St Houston TX, 77089
281-484-2337
FIRST CASH ADVANCE
13771 State Highway 249 Houston TX, 77086
281-445-8673
FIRST CASH ADVANCE
11588 Veterans Memorial Dr Ste Houston TX, 77067
281-880-0026
FIRST CASH ADVANCE
6211 Fm 1960 Rd W Houston TX, 77069
281-866-0002
FIRST CASH ADVANCE
5551 Highway 6 N Houston TX, 77084
281-855-0672
FIRST CASH ADVANCE
8017 S Main St Houston TX, 77025
713-660-7887
FIRST CASH ADVANCE
5901 Bellaire Blvd Ste C Houston TX, 77081
713-664-4710
FIRST CASH ADVANCE
7330 Southwest Fwy Ste B Houston TX, 77074
713-995-1144
FIRST CASH ADVANCE
4010 Broadway St Houston TX, 77087
877-855-8840
First Cash Advance - Houston
8017 Main Street Houston TX, 77025
713-660-7887
First Cash Advance - Houston
4010 Broadway Street Houston TX, 77087
713-645-4430
First Convenience Bank
5801 South Gessner Drive Houston TX, 77036
936-756-1144
First National Bank
5801 South Gessner Drive Houston TX, 77036
713-271-8246
Food Town
15875 Fm 529 Road Houston TX, 77095
281-345-9347
Gulf Coast Card Service
1005 Belknap Road Houston TX, 77002
281-983-0240
I X C Dollar Express
7649 Clarewood Drive Houston TX, 77036
713-270-0075
Integrity Group
525 North Sam Houston Parkway East Houston TX, 77060
281-260-8700
Ixe Dollar Express
10906 South Post Oak Road Houston TX, 77035
713-283-0049
Ixe Dollar Express
7501 Bissonnet Street Houston TX, 77074
713-270-1871
J S C Check Cashing
3100 Produce Row Houston TX, 77023
713-921-2311
Jacks Check Cashing
1314 Allen Genoa Rd Houston TX, 77017
713-649-3413
Jiffy Cash
8311 Long Point Road Houston TX, 77055
713-984-2274
Jiffy Cash
6239 Westheimer Road Houston TX, 77057
713-789-7775
Jsc Federal Credit Union
404 Fm 1959 Road Houston TX, 77034
281-488-7070
Jsc Federal Credit Union
1330 Gemini Street Houston TX, 77058
281-488-7070
Kco Enterprises Inc
6444 Highway 6 North Houston TX, 77084
281-855-6771
Kwik Cash Check Cashing
9715 Telephone Rd Ste 104 Houston TX, 77075
713-991-2606
Kwik Cash Check Cashing
9705 Telephone Road Suite F Houston TX, 77075
713-991-2606
Kwik Cash Check Cashing
9261 Gulf Freeway Houston TX, 77017
713-943-8373
Kwik Cash Check Center
9261 Gulf Fwy Houston TX, 77017
713-943-8373
LA BUENA TELECOM HISPANA
2301 Airline Dr Houston TX, 77009
713-862-2181
La Buena Telecom Hispana No 2
2301 Airline Drive Houston TX, 77009
713-862-2181
Lane Bank Equipment
3609 Bolin Road Houston TX, 77092
713-682-1516
Lawndale Check Cashers
7052 Lawndale St Houston TX, 77023
713-928-5933
Lawndale Check Cashers
7052 Lawndale Street Houston TX, 77023
713-928-5933
Lrs
10100 East Freeway Suite 105 Houston TX, 77029
713-672-1535
Macs Check Cashing Service
1147 Lathrop St Houston TX, 77020
713-673-7325
MAIN STREET CHECK EXPRESS INCO
5909 Scott St Ste F Houston TX, 77021
713-747-6669
Mejico Express Inc
3318 Orlando Street Houston TX, 77093
713-692-3389
Merchant Services Of Texas
525 North Sam Houston Parkway East Suite 525 Houston TX, 77060
281-260-8700
Metro Cash & Check Service
7010 Woodridge Drive Houston TX, 77087
713-645-9213
Metro Cash And Check Service
7010 Woodridge Dr Houston TX, 77087
713-645-9213
Mit Cashing Services
1819 Gessner Dr Houston TX, 77080
713-935-0448
Money Stop
10004 Bissonnet Street Houston TX, 77036
713-779-7867
Money Stop
6561 Fondren Road Houston TX, 77036
713-777-0180
MONEY STOP
6561 Fondren Rd Houston TX, 77036
713-773-3036
Money Stop Inc
10004 Bissonnet St Houston TX, 77036
713-779-7867
Moneyda Inc
6225 Southwest Freeway Houston TX, 77074
713-777-7121
Moneyda Inc
7641 Clarewood Drive Houston TX, 77036
713-777-1159
Moneyda Inc
10355 Club Creek Drive Houston TX, 77036
713-774-3981
Moneyda Inc
2012 West 34Th Street Houston TX, 77018
713-688-0749
Moneyda Inc
647 Gazin Street Houston TX, 77020
713-674-4073
MONEYDA INC
1020 N Shepherd Dr Houston TX, 77008
713-863-9831
MONEYDA INC
2012 W 34th St Houston TX, 77018
713-688-0749
Multiple Servicios Checa
6261 Highway 6 S Houston TX, 77083
832-328-0106
Ndc
11116 West Little York Road Houston TX, 77041
832-467-9900
Neighborhood Check Casher Inc
3348 Fountain View Drive Houston TX, 77057
713-780-3885
Neighborhood Check Cashers
9620 Long Point Road Houston TX, 77055
713-827-1155
NO WAIT CASH ADVANCE
12450 Bissonnet St Houston TX, 77099
281-530-9700
NO WAIT CASH ADVANCE
2825 S Kirkwood Rd Houston TX, 77082
281-493-3322
NO WAIT CASH ADVANCE
14799 Perthshire Rd Houston TX, 77079
281-293-7616
No Wait Cash Advance Bda-002
12450 Bissonnet Street Houston TX, 77099
281-530-9700
Npc
10333 Richmond Avenue Suite 150 Houston TX, 77042
713-781-5151
One Stop Check Llc
525 North Sam Houston Parkway East Houston TX, 77060
281-921-1337
OPTION 1ST MORTGAGE
19635 Heritage Elm Ct Houston TX, 77084
281-829-2733
PAISANO MULTISERVICES INC
8000 Bissonnet St Houston TX, 77074
713-995-0412
Payroll Check Service
3230 Campbell Road Houston TX, 77080
713-934-8427
Perram Peter
7211 Creek Crest Drive Houston TX, 77095
281-463-0545
Peso Pronto
8632 Long Point Road Houston TX, 77055
713-647-6849
Peso Pronto
13350 Northborough Drive Houston TX, 77067
281-876-4579
Peso Pronto
11034 Airline Drive Houston TX, 77037
281-272-8793
PESO PRONTO
8632 Long Point Rd Houston TX, 77055
713-647-6849
PESO PRONTO
11034 Airline Dr Houston TX, 77037
281-445-3071
Peso Pronto Inc
11034 Airline Dr Houston TX, 77037
281-272-8793
PLS CHECK CASHER
8900 Westheimer Rd Houston TX, 77063
713-783-2737
PLS CHECK CASHERS
8607 Long Point Rd Houston TX, 77055
713-464-4000
PLS CHECK CASHERS
6237 Bellaire Blvd Houston TX, 77081
832-204-1800
PLS CHECK CASHERS
6213 Lyons Ave Ste 110 Houston TX, 77020
713-672-0300
PLS CHECK CASHERS
798 Maxey Rd Houston TX, 77013
713-453-8600
PLS TAX SERVICES
6237 Bellaire Blvd Houston TX, 77081
713-541-3939
Popular Cash Express
1303 West 11Th Street Houston TX, 77008
713-880-1280
Popular Cash Express
5858 South Gessner Drive Suite 146 Houston TX, 77036
713-779-6490
Popular Cash Express
9795 Beechnut Street # B Houston TX, 77036
713-771-0351
Popular Cash Express
11386 Fondren Road Houston TX, 77035
713-721-9692
Popular Cash Express
9415 Jensen Drive Houston TX, 77093
713-695-5485
Popular Cash Express
622 West Little York Road Houston TX, 77091
713-691-0117
Popular Cash Express
5430 Chimney Rock Road Houston TX, 77081
713-666-2981
Popular Cash Express
1050 Federal Road Houston TX, 77015
713-637-0123
Popular Cash Express
2815 Collingsworth Street Houston TX, 77026
713-223-0693
Popular Cash Express
7028 Antoine Drive Houston TX, 77088
281-447-5720
POPULAR CASH EXPRESS
9795 Beechnut St Ste B Houston TX, 77036
713-779-6490
Popular Cash Express Inc
1303 W 11Th St Houston TX, 77008
713-880-1280
Popular Cash Express Inc
9413 Jensen Dr Houston TX, 77093
713-695-4760
Popular Check Cashing
435 Uvalde Road Houston TX, 77015
713-450-2236
Postal & Tax Etc
12554 Bellaire Boulevard Houston TX, 77072
281-988-9011
Postal Etc
8880 Bellaire Blvd Houston TX, 77036
713-771-9055
Postal Service Center School Supply
10804 Bellaire Boulevard Suite D Houston TX, 77072
281-495-3721
PRIDE N TEXAS LAND LTD
8320 Gulf Fwy Houston TX, 77017
713-643-8002
Questpoint Check Processing
650 North Sam Houston Parkway East Suite 325 Houston TX, 77060
281-448-2100
Quick Cash Beverages
12346 Beaumont Highway Houston TX, 77049
281-458-4023
RENT A CENTER
929 N Shepherd Dr Houston TX, 77008
713-864-6666
RENT A CENTER
84 E Crosstimbers St Houston TX, 77022
713-691-3767
RENT A CENTER
12600 Bissonnet St Houston TX, 77099
281-575-9021
RENT A CENTER
6736 Hillcroft St Houston TX, 77081
713-541-2030
REPUBLIC CASH SERVICES
6155 Southwest Fwy Houston TX, 77057
713-660-8984
Rescue Concepts Inc
Houston Houston TX, 77002
713-475-8200
Ruiz Cash N Carry Co
1703 Ssgt Mcrio Garcia Dr Houston TX, 77011
713-926-8503
Ruiz Cash N Carry Co
2818 Fay St Houston TX, 77023
713-921-5978
Ruiz Wholesale Co Inc
2301 Airline Dr Ste A Houston TX, 77009
713-869-7788
Saldana Exchange Company
6301 Jensen Drive Houston TX, 77026
713-692-2306
Schwick Beverage Inc
12346 Beaumont Hwy Houston TX, 77049
281-458-4023
Senor Cellular Check Cashing
6345 Windswept Ln Ste C Houston TX, 77057
713-972-0001
Senor Cellular N Check Cashing
6345 Windswept Lane Suite C Houston TX, 77057
713-972-0001
SENOR CELLULAR N CHECK CASHING
6345 Windswept Ln Houston TX, 77057
713-972-0001
Senor Check Cashing 2
5950 S Gessner Dr Houston TX, 77036
713-541-2414
SHAWS R & R JEWELRY & LOAN LP
10540 Jones Rd Houston TX, 77065
281-890-3311
Sheldon Quick Cash Beverage
6539 Sheldon Road Houston TX, 77049
281-452-7752
Sipco 77093
8504 Jensen Dr Houston TX, 77093
713-699-8095
SPEEDY STOP 309
13155 Fm 1960 Rd W Houston TX, 77065
281-894-0356
SU SMART DINERO
5608 Gulfton St Houston TX, 77081
713-660-8443
Sultana Exchange
2301 Airline Drive Houston TX, 77009
713-869-7788
Sultana Exchange
1005 Hogan Street Houston TX, 77009
713-247-0911
Sultano Exchange
1005 Hogan St Houston TX, 77009
713-247-0911
Superb Check Cash
12800 Northborough Drive Houston TX, 77067
281-872-0520
T C C S Inc
4801 N Shepherd Dr Houston TX, 77018
713-695-1671
TELE CHECA
6267 Highway 6 S Houston TX, 77083
832-328-0101
Tele-Checa
6267 Highway 6 South Houston TX, 77083
832-328-0101
Telecheck - Checkwriter Services
5251 Westheimer Road Houston TX, 77056
713-331-7270
Telecheck - Corporate Office
5251 Westheimer Road Houston TX, 77056
713-331-7600
Telecheck Inc
1235 North Loop Houston TX, 77022
713-868-9472
Telecheck Inc
1235 North Loop West Houston TX, 77008
713-868-9410
TELECHECK INCORPORATED
1235 North Loop W Houston TX, 77008
713-868-9410
Telecheck Services - Authorization & Verification
5251 Westheimer Road Houston TX, 77056
713-331-7760
Telecheck Services - Sales & Service
5251 Westheimer Road Houston TX, 77056
713-331-7700
Texas Check Cashers
10878 West Bellfort Street Houston TX, 77099
281-564-9933
TEXAS CHECK CASHIERS
7028 Antoine Dr Houston TX, 77088
281-447-5720
Texas Checkashers
10878 West Bellfort Street Houston TX, 77099
281-568-6181
Texas Checkashers
1734 West Mount Houston Road Houston TX, 77038
281-448-7668
Texas Checkashers
111 Cavalcade Street Houston TX, 77009
713-692-5848
Texas Checkashers
141 Little York Road Houston TX, 77076
713-691-0147
Texas Checkashers
5600 Almeda Road Houston TX, 77004
713-523-8551
TEXAS CHECKASHERS
141 Little York Rd Houston TX, 77076
713-691-0147
Texas Checkashers Inc
5600 Almeda Rd Houston TX, 77004
713-523-8551
Texas Checkashers Inc
111 Cavalcade St Houston TX, 77009
713-692-5848
Texas Checkcashers
5858 South Gessner Drive Houston TX, 77036
713-270-8132
TEXAS CHECKCASHERS
5858 S Gessner Dr Ste 146 Houston TX, 77036
713-270-8132
Texchex
8007 East Freeway Houston TX, 77029
713-674-4889
The Check Cashers
6030 Dashwood Drive Houston TX, 77081
713-666-9909
THE CHECK CASHERS
6030 Dashwood Dr Houston TX, 77081
713-666-9909
The Money Market
5330 Chimney Rock Road Houston TX, 77081
713-218-6311
THE MONEY STOP
6330 Antoine Dr Houston TX, 77091
713-956-2800
THE MONEY STORE
12375 Bissonnet St Houston TX, 77099
281-848-1506
Tnt Photography & Video
12914 Bellaire Boulevard Houston TX, 77072
281-498-9981
Tonys Check Cashing
4010 Synott Rd Houston TX, 77082
281-293-0302
Uci
8300 Bissonnet Street Suite 298 Houston TX, 77074
713-981-6300
Usa Cash Advance
2656 South Loop West Houston TX, 77054
713-660-0305
Usa Cash Advance
8320 Gulf Freeway Suite 224 Houston TX, 77017
713-643-8002
VETTE VENDING COMPANY
6255 W Airport Blvd Houston TX, 77035
713-283-5427
Woodland Coastal
5022 Kleinbrook Drive Houston TX, 77066
281-363-2838
---
TYPE YOUR ZIP BELOW TO SEE CASH ADVANCE COMPANIES
Cash Advance Information by State:
Texas Advance Loan - Cities