How to Plan an Affordable Honeymoon
Each year, roughly 2.4 million weddings take place in the United States. And after these weddings, there are about 1.4 million honeymooning couples. In fact, among those who chose to get married, 99% will typically take a honeymoon following their nuptials.
Request a Loan Today*
*By filling out the form above, you will be routed to OpenCashAdvance.com's loan request form.
Honeymoons are typically taken by newlyweds after their weddings, to celebrate their union. And while these luxurious holidays can offer some relief after what can be an often stressful event, they can also come with hefty prices. Indeed, the average U.S. couple spends anywhere from $4,500 to $10,000 on their honeymoon, which is about three times as much as the average U.S. adult spends on a regular vacation. The honeymoon industry itself is worth close to 12 billion dollars.
Couples typically plan their honeymoons up to four months prior to their weddings, with roughly 62% of newlyweds taking on the total expenses themselves. These expenses can rack up and place couples in debt. In fact, studies show that couples borrow an average of $16,000 for wedding expenses. And while interest rates for wedding loans can be lower than those associated with other lines of credit, it can take up to three years for newlyweds to pay their loans off.
But planning an affordable wedding and subsequent honeymoon can be possible by taking certain measures like those detailed below.
Set a Budget
Setting a budget can help to keep expenses in check while honeymoon planning. Budgeting can act as a road map for couples, reduce stress, and ensure that financial limits are not exceeded. In fact, 33% of couples report spending more than they had originally intended to spend when wedding planning.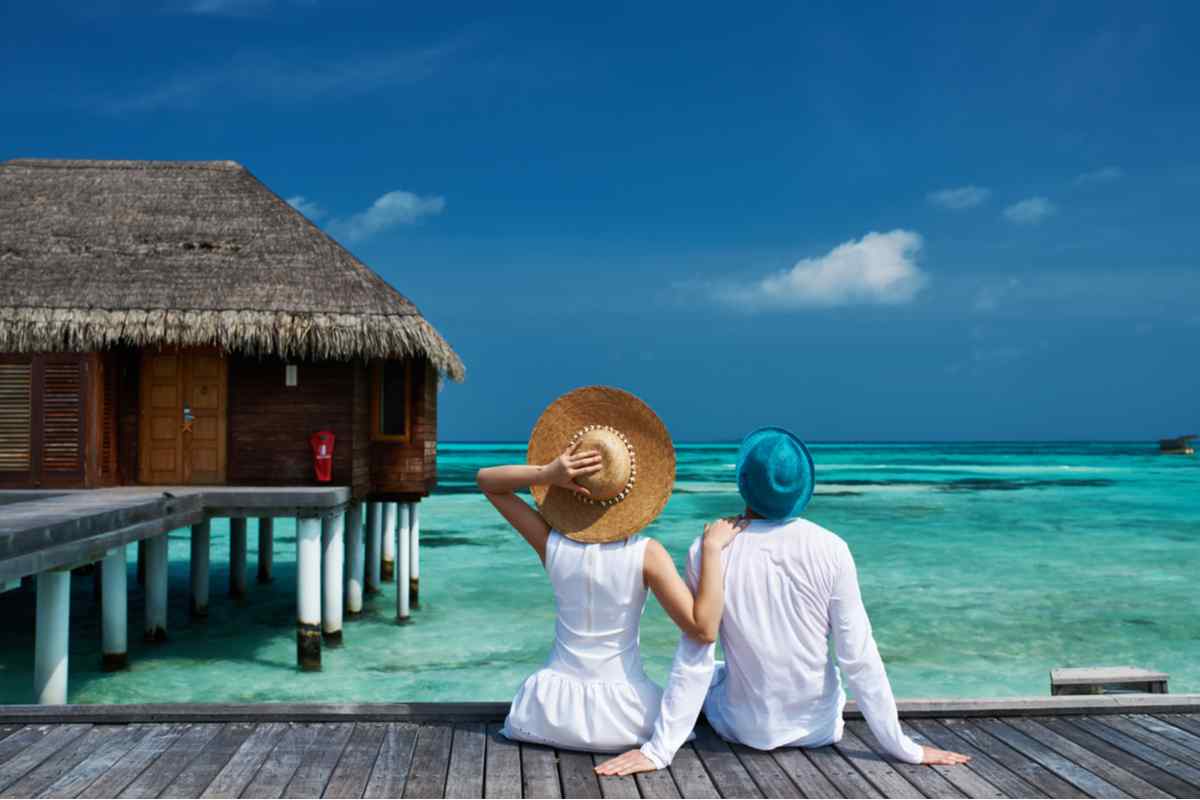 But despite how important making a budget can be, less than half of all Americans actually make one. Indeed, a widely cited study from Gallup found that only 36% of Americans prepare a budget. Couples can keep a budget by writing out their finances on pen and paper, or by using a money tracking tool.
While the average U.S. wedding cost around $30,000, experts suggest that couples should set aside 10% to 15% of their total wedding budget, for their honeymoon. And while there are no set rules regarding how to plan a honeymoon, travel agents suggest spending no more than 45% to 60% of the total honeymoon budget on accommodations. For transportation, couples should expect to spend between 20% to 25%. In terms of activities, honeymooners can plan to spend 5% to 10% of their total budgets, depending on how active a couple is.
It is important for couples to set their monetary priorities when planning for a honeymoon. Those who want lower-cost honeymoons can opt for domestic travel destinations that may not cost as much as overseas vacations.
Newly married couples who are unable to afford a honeymoon immediately following their weddings can also spend time-saving up, and chose to go on vacation at a later date.
Track Flight Costs
The United States travel industry is a booming sector that generated over $1.6 trillion in economic output in 2017, with spending reaching up to $1,036 billion in the same year. In fact, the average airfare for an international flight to Europe in 2019 was $1,158. To this end, travel costs can eat up a large chunk of honeymoon budgets.
Booking flights early can help couples save on costs. Experts suggest booking flights around six to eight months in advance or flying during less busy seasons, to lower costs. For example, heading to the tropics, countries such as Bali or Thailand, during the rainy season can mean cheaper flights. Likewise, opting to travel to colder countries in the winters can result in reduced flight prices.
Studies have also revealed that there are some savvy ways to find low-cost flights. For example, booking as early as 200 to 300 days in advance can cost travelers an average of $50 more than usual, while Tuesdays and Wednesdays are typically the cheapest days to fly. Plus, choosing a flight with at least one stop can save travelers an average of 5% in cost.
Soon-to-be vacationers can also set up flight alerts for certain destinations, to keep an eye on prices.
Book an All-Inclusive Trip
Couples who want to save on cash can choose to honeymoon on a budget, by booking an all-inclusive trip. All-inclusive trips mean that the accommodations, food, activities, entertainment, and the like, are included in the original vacation booking price. Some may even include local tours of the desired destination.
All-inclusive trip packages are becoming increasingly popular among travelers. In fact, they made up one of the largest percentages of the revenue for travel advisors, in comparison to other travel products, according to the 2019 Travel Industry Survey. Additionally, more resorts are catering to newlyweds and offering these options. A 2008 IBISWorld study predicted that the all-inclusive vacation market would increase at an annual rate of 2.5%, to $150.09 million within the following 10 years.
Plus, such trip packages may contribute to a lighter carbon footprint. Indeed, experts in sustainable tourism suggest that the all-inclusive package holiday has the potential to alleviate the effects of mass tourism.
Honeymooners can find lists of viable all-inclusive trip recommendations to see which one would best fit their needs. But while such trips can be money-savers, travelers should watch out for hidden fees that may make the vacation more costly in the long-run.
Unexpected costs can trap travelers into paying more than they originally intended. Hidden fees may include baggage fees, credit card holds, airline or hotel deposits, etc.
Honeymooners should research all aspects of their trip to ensure that no unforeseen charges crop up that can derail the vacation. Couples can also ask previous honeymooners who went to similar destinations for advice regarding what to expect. In some cases, newlyweds may be able to find free or discounted activities based on their honeymoon status. Experts advise couples to capitalize on such discounts.
Couples who find themselves in need of additional cash on their honeymoons or who run into unexpected hidden costs can consider applying for a cash advance in the form of an online payday loan. Honeymooners considering such loans should keep in mind that "bad credit payday loans" or "payday loans with no credit check" are not typically possible, as lenders will check applicants' credit scores to determine loan approval.
Set Up a Honeymoon Registry
Couples can set up a honeymoon registry to ask guests to chip in for their vacation. In fact, according to a 2019 report from The Knot, 55% of couples who use the website's registry set up cash funds to help pay for honeymoon-related costs.
Bridal or wedding registries are typically used to organize and disclose preferred gifts from guests, but there are no set rules for how to plan a honeymoon. To this end, couples may ask wedding guests to give gifts in the form of "experiences". Such registries can include specific aspects of the upcoming vacation, such as lodging, activities, or flight. Such aspects are then tied to a specific dollar amount that guests can pay directly into an account.
Registries can be set up at any point before a wedding. Experts advise couples to set them up no later than the date of the bridal shower. Others suggest that registries be set up within seven to nine months before the wedding date. Wedding registries can be distinct to the couples needs, rather than following traditional routes.
Recent studies have shown that cash registries are on the rise, up from 27% in 2017 to 37% in 2019, with the average cash registry accepting $1,863 in guest gifts. Cash registries can also help couples to fund expenses like down payments on new homes. Other popular registry cash contributions include funds for food and drink activities (15%); household-related expenses (15%); and personal interests (9%) for the newlyweds. Further, wedding registries typically feature an average of a whopping 111 different items, with an average total value of $4,695.
The Bottom Line
Honeymoons can be costly and therefore put a great deal of financial strain on couples. But by budgeting, planning ahead, and researching ways to cut costs, newlyweds can have affordable post-wedding vacations.
Couples can speak to financial advisors or travel agents about additional best practices when it comes to going on a honeymoon.