Request Online Payday Loans When You Need It Most
What is a Payday Loan Online?
A payday loan is short-term, small-money financing designed for emergency purposes. It is characterized by two of its main benefits: speed and availability. Bad credit may not automatically disqualify an applicant.
How a Payday Loan Online Works
Online payday loans are different from conventional financing in a few ways:
Once you are given the loan, you are expected to pay it back when your next paycheck arrives.
If your due date comes and you are not able to pay, the lender may let you push back your due date.
A percentage fee may be tacked onto your outstanding balance.
Just beware that if you do decide to push back the due date of your loan, it will result in losing more money through interest and fees.
State Regulations
Many states will place limits on the interest of a loan. Fifteen states have regulations that limit the APR for short-term loans to 36% or less, while most other states allow higher rates, according to the Center for Responsible Lending.
Many states will restrict the interest a lender can place on your loan. Your state may even keep you from borrowing money if you have too many outstanding balances. Check your state's webpage to see what applies to your circumstance.
Where to Find a Fast Cash Loan Online
You don't need to go very far to request a payday or installment loan on the Internet. We provide the service right here.
Using our loan request form is one of the easiest ways to start your search for funding.
We streamlined the entire process. Just fill out all the fields you see in the following sections:
Personal information – This is where you tell us about yourself. We try to be as unobtrusive as possible, but we do need to know things like your address and birth date to make sure you meet our requirements to connect you with a lender.
Employment information – Our lenders need to know how you will be able to pay back your loan. You don't have to have a job to be connected with a lender, but you do need to have a dependable revenue stream.
Bank information – Most payday lenders will deposit your loan money directly into your bank account, and then withdraw the loan money plus the fees and interest at the end of your loan term. This means the lender needs to know if you have an active bank account or not. This is why we ask you for your current banking information.
Your data is kept safe throughout the entire loan request process. We ensure this in the following ways:
We only work with reputable lending companies.
We protect your data with 256-bit encryption.
Our staff is trained in the best practices for on-site data security.
If you have any questions about the loan request process, we invite you to contact us. Of course, the easiest way to understand how to use our service is to try it out for yourself. We have made it as easy as possible to get started. Simply click the "Get Started" button at the top of the page to see for yourself.
Working with a Lender
Online lenders can provide funding in a few different ways. One option is direct deposit. Through direct deposit, the funds are added immediately to your bank account. This account can be a savings or checking account. This means that people can apply for payday loans with a savings account as well. You may receive the money in as soon as one business day.
Certain lenders let you request a prepaid debit card. Those without access to a bank or checking account tend to prefer this option. The cards contain the full balance of the loan. Customers using this option may receive a PIN and other security measures to help ensure that transactions made with the card are legitimate.
Payday Loans with prepaid debit cards allow customers to get cash, giving them access to withdraw a part of their balance when necessary.
Taking a cash advance isn't free, however. When you take a cash advance, a percentage fee is subtracted from your balance as well. This fee will vary from lender to lender. In some cases, lenders may be willing to void the fee if you need money urgently – consult with your lender of choice to see if this will be true for you.
Requesting short-term cash can help you overcome your financial struggles! You can get started right here.
How to Get a Payday Loan Online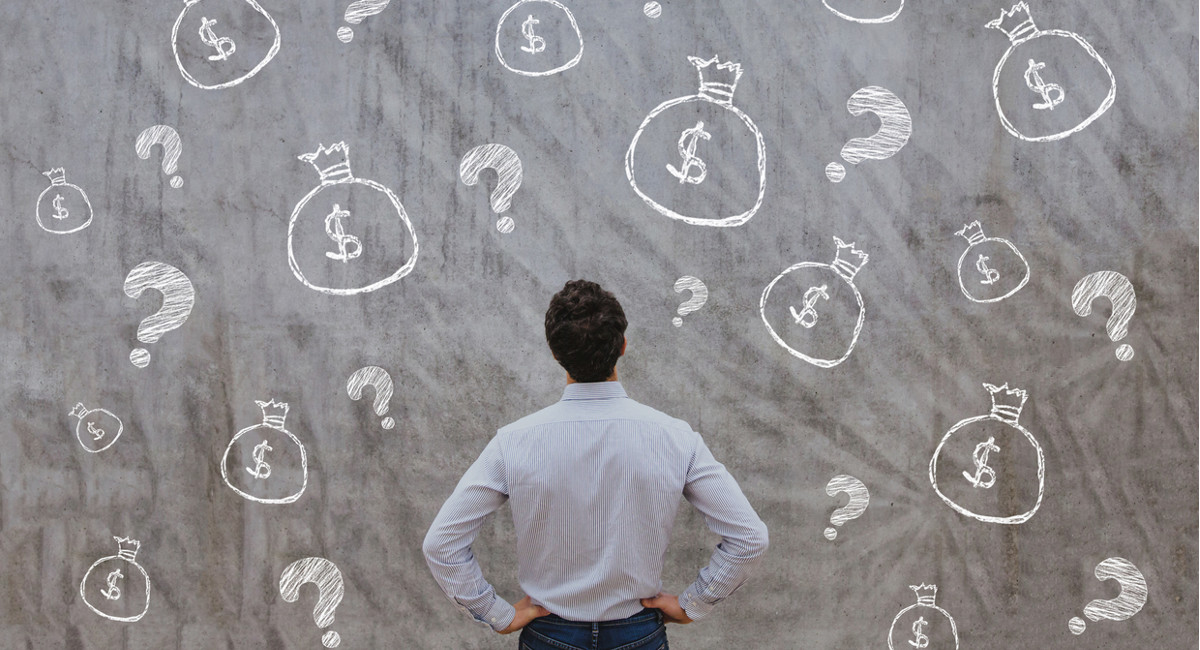 You just need to provide a few documents and you can begin the process of applying for a payday loan!
Proof of employment
Paychecks from previous weeks
A valid ID
Contact information
Invoices and receipts relevant to your financial situation
Proof of employment is essential to many online payday loan vendors. You need to show that you receive a steady income. Without one, you will have trouble finding a lender open to working with you.
Past paychecks may be useful when qualifying as well. It shows lenders that your earnings are consistent.
A valid ID may be required. A driver's license is preferred in most circumstances. Tax documents, like your W-2, may also be acceptable. Without a valid ID, you likely won't be able to work with a payday loan vendor.
Lenders will typically request multiple ways of contacting you or your immediate family. You will need to provide them your current address as well. If you're living with a friend or a family member, their address may be acceptable.
You may want to send the lender any invoices and receipts relevant to your financial struggles. These can show your financer that you have accurately represented the costs and expenses that you're struggling with. If these expenses are related to a disability or dependent, lenders may be willing to negotiate a larger loan.
Online payday loans can be effective ways to get urgent funds quickly. If you use them responsibly, they can be useful in managing your short-term expenses.
Factors to Consider
While payday loans are a great financial option to have, there are some factors to consider. Most notably are the interest rates, which can be higher than credit card payments and late fees.
If your financial standings are bad at the time of your application, the lender may limit what you can purchase with your loan. This is rare, however. Typically, lenders do not tell you how to spend your money.
There are plenty of advantages to using short-term loans. They act as emergency cash when you cannot access basic credit. But if you work with a provider long enough, they may trust you enough to give you a larger loan.
Online outlets are a quick and straightforward outlet for fast cash when you can't make it to an in-store location. In fact, many prefer applying for an online loan.
Who Should Use Shorter-Duration Funding?
If you're in a specific age group, you may be more likely to take out a payday loan.
Here is a chart that shows the percentage of U.S. adults who have taken out a payday loan*: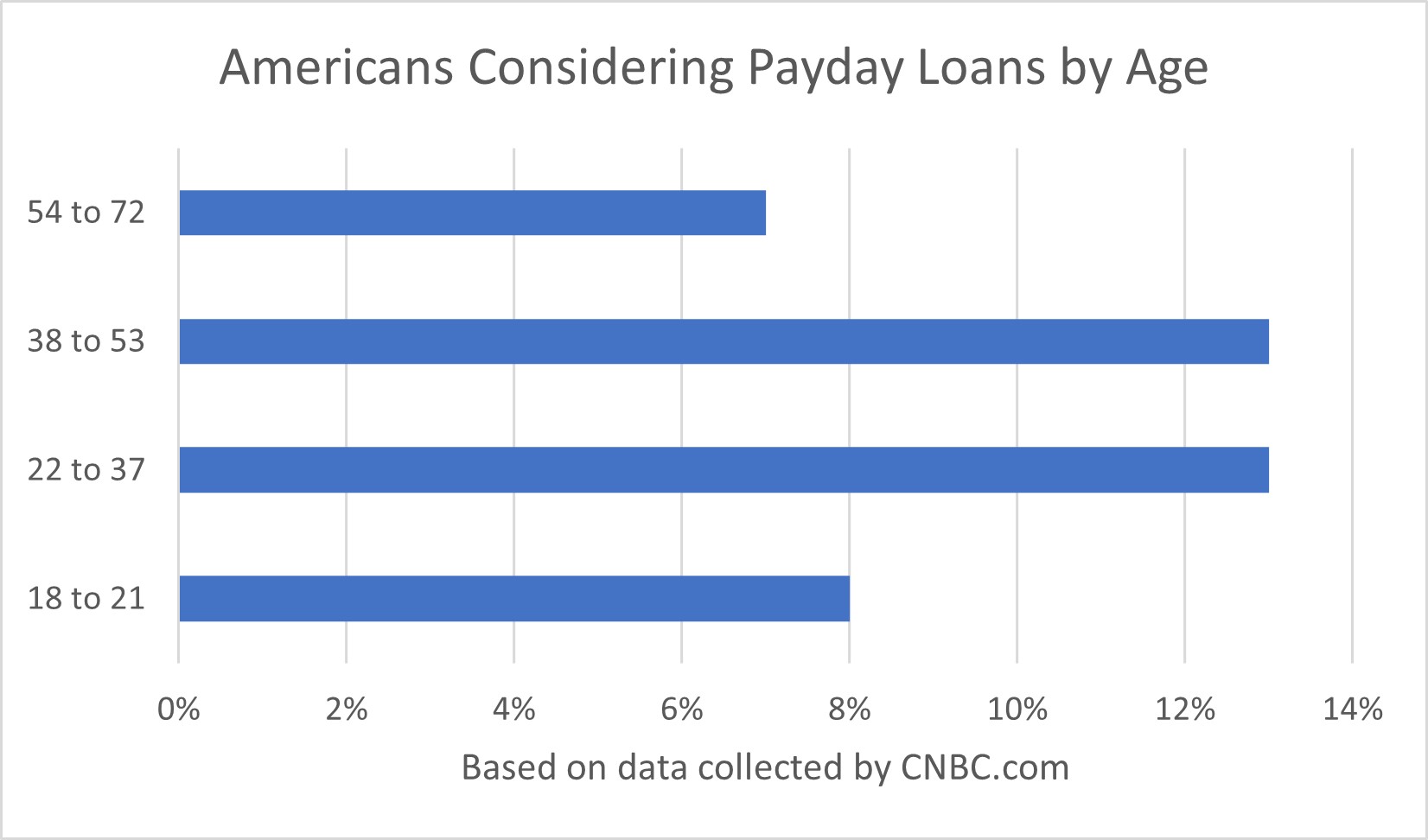 Adults aged 25 to 49 take out payday loans at higher rates than the broader population, according to a Pew Charitable Trust survey. For those who are between the ages of 18 and 24, or older than 50, loan use tends to be lower than the general average. The same is true for those who are 70 years of age and older.
Short-term lending makes sense for the following consumers:
Those with bad credit who cannot receive traditional funding, such as a bank loan or a credit card
Those who need money faster than other lenders can provide
Those who will be able to pay back the money on the specified due date
Most lenders have their list of requirements for loan eligibility. Meeting these requirements does not guarantee that you will receive a loan, but not meeting them will ensure rejection. Before applying for a payday loan online, it is vital to make sure you meet these basic requirements:
You should be a U.S. resident
You should be at least 18 years of age
Your bank account should be in good standing
Your monthly income should be no less than $800
Some consumers think that mistakes in the past bar them from receiving short-term loans. This is not always true. Even if you have suffered a bankruptcy, you may not be automatically disqualified for a loan. The lender will check your credit, but you may still receive the funding.
What are the Advantages of a Payday Loan Online?
There are three main benefits of using a shorter-duration loan:
Speed
Availability
Protection
For millions of Americans, finding fast cash is not as easy as walking into a bank and withdrawing the necessary funds. In fact, the underbanked have few options for acquiring money in an emergency.
Fortunately, cash advance loans are available in many areas. When the bank says "no," consumers are sometimes still able to get their money by applying for a cash advance.
Lenders may deliver these funds in as soon as one business day.
Why You Can Trust Us
The Main Reasons to Use Open Cash Advance
You have options. This is a $9 billion industry we are talking about. So, why should you choose us?
Here are some of the ways we stack up against the competition:
Our network gives you a chance to find funding. We work with a lot of lenders, which may increase the chance of you finding one.
We only work with reputable lenders.
Using our site does not hurt your credit score.
We accept all credit types. Those with better histories may find lower rates, but a low score will not prevent you from using our form.
Our loan request is completely safe. We use top-of-the-line data encryption to keep your personal data invisible.
We offer on-screen results within minutes of submitting your loan request.
We Keep Your Data Safe
We take your data security seriously. All the information you enter into our site is protected with 256-bit encryption.
No matter where you request or apply for funding, it is important to follow the best practices for online lending. There are easy ways to keep your data safe from identity theft, scams, and other dangers. Before entering your personal information into any financial site, make sure it meets the requirements outlined in the following checklist.
Only work with sites that have an SSL certificate. You can tell if a website is secure by checking for the "https" protocol. If it is missing the "s" after the "p," then you should look somewhere else for your online funds. Sites without an SSL may not offer a secure connection between the web server and your browser, providing an easy opportunity for cyber thieves to steal your information.
Check the site's Privacy Policy. Websites that ask for your personal information are required to include a Privacy Policy that says what they will do with your information. Stay away from sites that do not have a policy like this, as well as the ones that include language that you feel uncomfortable with.
Install internet security software onto your computer. Being proactive about internet safety requires some defensive work on your end. Even if you only visit the best sites, you still risk losing your data if you do not have malware protection installed on your computer, as hackers can and will find ways inside your machine if you let your guard down.
Regularly update your passwords. You should never use the same password twice. If you do, hackers will be able to access more of your accounts after cracking just one of them. It's best to use a variety of passwords, while also updating them every several weeks.
Request that lenders scrub your information after you finish working with them. Even a simple loan inquiry puts your data out there, entering your personal information onto all kinds of lists and ensuring that you will be reached out to again and again. One alternative to that is asking the site to remove all your personal information.
It's essential to respond quickly to messages from your bank and other outstanding accounts if they see any suspicious activity.
We Help You Try to Find a Nearby Payday Loan Online
Using a local lender may increase the odds of being approved for a payday loan. Local financial retailers provide:
a more subjective process for determining loan worthiness
access to products that are not always available online, such as terms available only in your location
greater flexibility for receiving your loan money
Outlets that provide shorter-duration funding are generally more flexible and personable than conventional lenders. Likewise, their requirements for eligibility can be far less strict. A credit score may be less of a factor, and the time it takes for you to be approved is relatively quick.
They can be a viable option when unexpected and costly emergencies present themselves.
If credit cards and personal loans are unavailable to you, it is best to take out a payday loan to help you with your expenses. Payday loans can be used to pay for utilities, groceries, and medical bills. They can guide you in the right direction and get your life back on track!
The vast majority of those who look for an Internet loan will not find funding that way. However, many of them still may find help from a location closer to home. When you use OpenCashAdvance, you may find a local financial retailer.
Our Lenders are Fast
Usually, lenders will deposit the loan directly into your checking account. The transaction takes at least one business day. The lenders we work with provide fast cash for emergency situations.
It will be a lot harder to receive a payday loan without a checking account, as this is the preferred way to deposit your loan amount and eventually withdraw the money with the fees on the specified due date.
After you receive your money, you will be able to use the cash as you would spend other funds added to your checking account.
Frequently Asked Questions
We have processed more than 1 million payday loan requests through OpenCashAdvance.
Some of these consumers reach out to us with questions before or after sending in their loan inquiry. Here are some of the most popular items.
IS A PAYDAY LOAN DIFFERENT FROM AN INSTALLMENT LOAN?
Yes, an installment loan is paid back bit by bit over time. That's not the case with cash advance funding, which borrowers need to pay back in one lump sum on the specified due date.
WHAT IS THE MOST I CAN BORROW?
State regulations limit how much you can borrow through short-term funding in your location. Some cities have their own rules, which may be stricter than federal or state laws. Three-month payday loans are not available in some areas. A reputable lender will be able to help you navigate any restrictions in your area as you try to find a loan that fits with your budget.
WHAT IF I CANNOT PAY IT BACK ON TIME?
Most lenders will try to automatically withdraw your payment from your checking account on the day your loan is due. If you do not have enough funds, you may receive a fee from your bank as well as from the lender. These fees can make it even harder to pay back your loan, so it's essential to reach out to your lender ahead of time and try to work something out with them.
DO YOU HAVE A COPY OF MY LENDING AGREEMENT?
No, we are not a lender. If you need to see your loan agreement for any reason, you should reach out to your lender directly. It's important to keep a copy of this documentation for your records. Before signing a loan agreement, you should understand the actual cost of the loan, as well as the penalties for missing a payment.
Shorter-duration loans need to be paid back on time. Always pay back cash advances with unborrowed money, as borrowing money to pay off debt multiplies the interest owed, making it harder to escape the debt. If you are responsible with your money, payday loans may be your best bet to cover sudden expenses.
Recent Blogs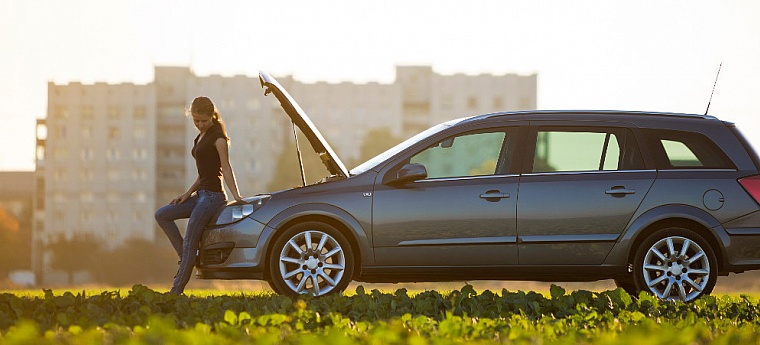 Loan Advice
Being an Uber driver is a great idea when you are looking to make some extra cash on the side or when you enjoy driving full-time. You can set your own hours and work when and where you want.
Best Practices
Losing a loved one is a painful process. Often, people struggle with deciding what to do with the money their loved ones leave behind. For many, that process has only become more stressful as the COVID-19 pandemic continues to impact inheritance proceedings due to court closures.