Best Personal Finance and Budgeting Apps
Be more mindful about your money! We've assembled 7 best personal finance and budgeting apps that will help you track your spending, save more money and make smart investments.
Request a Loan Today*
*By filling out the form above, you will be routed to OpenCashAdvance.com's loan request form.
Good money management should be a personal priority for everyone. Thankfully, technology has made it easier for anyone to budget their money, make smart investments, and monitor their bank account. However, not all budgeting and personal finance apps are built well. Instead of letting you download and later uninstall all sorts of apps, we've taken the guesswork out of the equation by listing the seven best personal finance apps of 2018.
Mint
Intuit's Mint is an all-in-one app for managing your personal finances. You can use it to create a budget, track your money in different bank accounts, and monitor your loan accounts and credit cards. Your transactions are updated and categorized automatically. You can even get alerts when bills are due and how much you need to pay. With the Mint app, you get to see a well-rounded picture of your overall financial health.
Price: Free
Special Features: Lets you see your credit score for free and in real-time
Best for: people who want to keep track of their money across multiple accounts
Download Mint mobile app for iOS & Android
Acorns
Acorns isn't like the Mint app which helps you budget your money and track your spending. What it does is invests your pocket change in low-cost exchange-traded funds (ETFs) that you choose according to your risk preference. How does it do that? Well, every time you purchase something with your card that's connected to the app, it rounds up the cost to the next highest dollar (e.g., $1.50 to $2.00) and invests the change. The beauty of the Acorns app is that you never really notice the cost. You get to invest money painlessly and look forward to a worry-free future.
Price: Free for students, $1 a month for accounts with a balance that's less than $5000, 0.25% per year for accounts with balances of $5000 or above.
Special Features: Allows you to invest money without any effort on your part
people who want to invest money but don't have enough money to start
Download Acorns app for iOS or Android
YNAB
YNAB is short for You Need a Budget. Unlike other usual budgeting apps, this one makes sure you live within your income and pay down all your debt. Every dollar you have has a job in your bucket, whether it's for paying for living expenses, paying off debts, or saving and investing money. No dollar remains unaccounted for which keeps you accountable for every dollar you spend. The app can be used on your desktop and mobile. Your bank transactions are imported directly into the app, but you still need to categorize them manually. With YNAB, you won't be living paycheck to paycheck anymore. You'll be learning how to live on last month's income.
Price: 34-day free trial (an extra 12 months free for students); $83.99 a year or $6.99 a month
Special Features: Aside from the usual budgets (weekly and monthly), this app allows you to set up personal budgets like "spring break vacation 2018"
Best for: people who have had a hard time sticking to a budget
Download the app for iOS & Android
Personal Capital
Personal Capital is exactly what the name implies. The app helps you monitor your personal capital for free using its financial tools. You see all your accounts through the app, giving you insights into your spending and saving goals and analysis of your investment portfolio. It even gives you recommendations on improvements you can make to help you reach your long-term goals. For a price, the app will let you invest assets through the company and provide you with recommendations from a team of professionals and algorithms.
Price: Free
Special Features: tracks your stocks' performance in real time and gives you access to a hybrid team of robo-advisors and human financial advisors to help you further grow your investments (for a fee)
Best for: People who want to be able to check up and evaluate their investments anytime
Download Personal Capital app for iOS or Android
PocketGuard
If you want a simplified budgeting app, then PocketGuard may just be what you're looking for. This app basically just lets you know how much money you have left over after paying bills and socking money away for future spending and savings. The app is connected to all your bank accounts and tracks your monthly income, expenses, and savings. You are always aware of where your money is going. The app lets you know what's safe to spend. Even better, it lets you know if there's a way for you to save more money. It helps you find better deals on current service costs, such as a lower monthly phone bill, and it advises you when to get a higher interest savings account.
Price: Free
Special Features: Analyzes your bills and expenses then provides recommendations on the best deals you can get on your recurring monthly service costs.
Best for: people who want a bare-bones budgeting system.
Download PocketGuard app for iOS or Android
Wally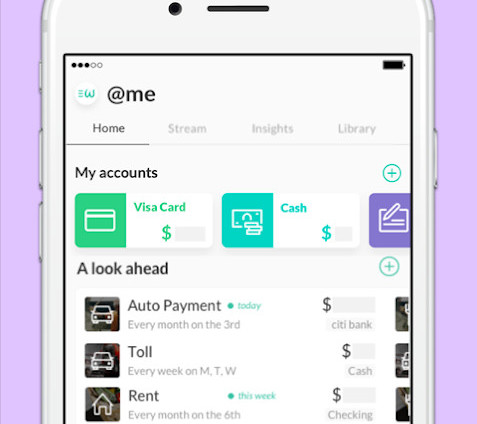 Wally is a personal finance app for those who want a snapshot of their remaining budget available at all times. The app helps you track your income, expenses, and lets you know how much money you have left to spend for that day and that month. You can even see at a glance how much money you've spent for the past few days. One of the best things about this app is that it lets you take a photo of your receipt and logs the expense automatically. There's no need to type in what you spent manually. Even better, if you use geolocation, the app automatically fills in that information, so you don't have to do it yourself. It's streamlined, intuitive, and convenient.
Price: Free
Special Features: Allows you to take photos of your receipts and inputs the information automatically
Best for: individuals who don't have time to type in their expenses into a budgeting software
Download Wally app for iOS or Android
Albert
Saving money is made effortless by Albert, the personal finance app that acts as your personal assistant. Instead of you creating a budget, the app will automatically make one for you based on your spending habits, income, and bills. It will set aside small amounts of money that you can save. And it will make recommendations that should help you become more financially healthy. For a fee, users can access the Albert Genius - a team of financial experts who will help you figure out a way to pay down debt faster and identify savings you are missing as well as bills you are overpaying.
Price: Free; Albert Genius is a minimum of $4 per month
Special Feature: A personal assistant that does the budgeting for you plus a team of financial experts who will answer any financial questions you have
Best for: individuals who want someone else to take over their money management responsibilities.
Download Albert app for iOS