I Need Money Desperately: Simple Steps to Generate Fast Cash
Are you feeling overwhelmed and stressed out about your finances? Do you find yourself constantly saying, "I need money desperately"? If so, you're not alone.
Many people face financial challenges and struggle to make ends meet. But this does not mean there isn't hope.
This article explores some practical tips and resources that may help you make money now and improve your financial situation. So, let's dive in and start taking steps towards generating the money you need when things get tough.
Need Money Urgently? 8 Ways to Get Instant Cash for Emergencies
We've all had unexpected expenses or emergencies arise, and finding ways to get quick cash can be challenging. Whether it's a car repair, medical bill, or other unexpected expense, sometimes we need money fast.
The following sections will explore eight ways to get cash fast for emergencies. These tips can help you get the money you need quickly. So, if you're in a tight spot and need money now, read on for some helpful solutions.
Ask Family or Friends for Financial Help
Asking for financial help from loved ones can be a sensitive matter, but it can also be an alternative way to get through tough times. Approach the situation with transparency and responsibility to maintain a healthy relationship with your loved one.
Before seeking financial help, it's worth having an open and honest conversation with your loved one about your current financial situation and why you need their assistance. If the support is not a gift, it's best to come up with a clear plan outlining the loan amount, interest rate (if applicable), and repayment timeline. This helps to avoid any misunderstandings or potential damage to your relationship.
Remember that any financial agreement made with a loved one should be taken seriously, just like any other lending arrangement. Setting clear terms and open communication can ensure a positive outcome for both parties involved.
Sell Unused Items for Quick Cash
If you need to make money today, selling unused items can be an excellent option. Many of us have items lying around that we no longer use or need, from clothes and shoes to electronics or home decor. Instead of letting them gather dust, why not turn them into quick cash?
There are several ways to sell unused items, both online and offline. Online marketplaces like eBay, Craigslist, and Facebook Marketplace allow you to list your items for sale and reach a wide audience. You can also sell items through specialized platforms like Poshmark for clothes and accessories or Gazelle for electronics. Here are some tips to help you sell your items successfully:
Choose the right platform: Many online marketplaces are available for selling various items. Make sure you choose a platform specializing in the type of item you're selling. For example, Depop is a popular platform for selling vintage and trendy clothing, shoes, and accessories, while Swappa specializes in used electronics.
Check the guidelines: Before listing your items, make sure you read the platform's policies carefully. This will ensure that you're selling within the rules and safely. Key rules include providing accurate descriptions, selling genuine products, respecting intellectual property rights, setting fair prices, using the platform's communication and payment systems, adhering to shipping policies, and maintaining good customer service.
Take high-quality photos: When creating your listings, include clear and attractive photos of your items. To capture attractive and high-quality images, utilize natural light, choose a clean background, stabilize your camera or phone, focus on details, include multiple angles, and consider free photo editing. A smartphone camera is a cost-effective way to take and edit these photos.
Use keywords: Including relevant keywords in your listings can help your items appear in search results. Be descriptive and use specific keywords that accurately describe your item.
For example, if you're selling a vintage floral dress, you can use keywords like "vintage," "floral," "dress," "retro," and "fashion" to accurately describe the item and increase its chances of appearing in relevant searches.
Promote your items: Most platforms allow you to share your listings on social media or other channels to help increase exposure. Consider promoting your items in this way to reach a wider audience. Promoting your items on social media or other channels can be done at no additional cost on most platforms.
Many platforms provide built-in sharing options that allow you to easily promote your listings to a broader audience through your own social media accounts. This helps increase exposure and attract potential buyers without incurring any extra fees. However, some platforms may offer additional paid promotional options or advertising features that can provide further visibility, but those are typically optional.
Price competitively: Look at what similar items are selling for on the platform and price yours competitively. Keep in mind that the platform may take a cut from the sale price, depending on the specific platform and the category of the item being sold. Generally, online selling platforms charge a percentage-based commission or fee that falls within 5% to 20% of the sale price.
Hosting a yard sale is also a way to make some quick cash. Make sure to advertise your sale in advance through social media, flyers, or even local newspapers to attract more buyers.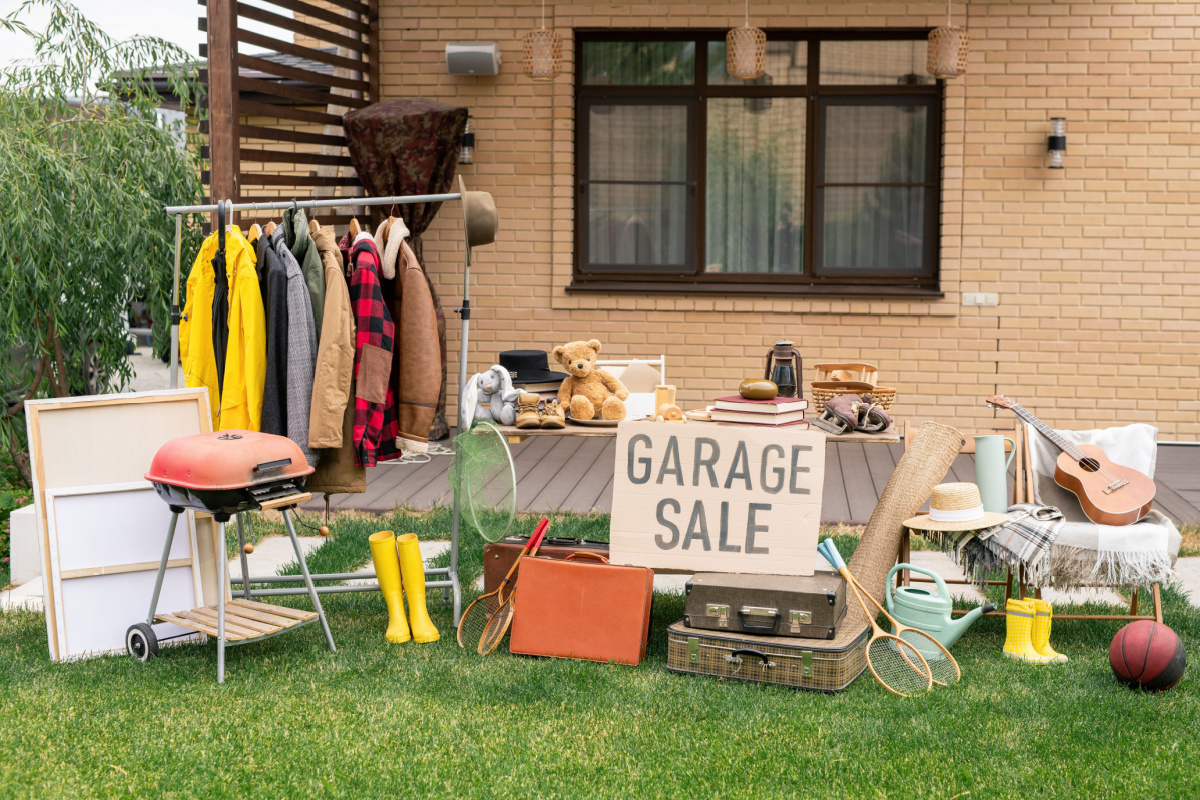 During the sale, be friendly and approachable to potential buyers and be willing to negotiate prices to ensure that you sell as many items as possible. Consider bundling items together to offer a better deal or running promotions such as buy one, get one free.
At the end of the day, you'll not only have decluttered your home but also made some extra cash in the process. Plus, you'll have the satisfaction of knowing that your old items have found a new home where they'll be appreciated.
Get a Freelance Job
Freelance jobs provide the flexibility to earn a quick income by leveraging your skills and expertise in various fields. This allows you to control your time, choose projects that align with your skills, and potentially earn higher rates than traditional employment. Also, the flexibility of freelancing allows individuals to work on their own terms, which means they can take on multiple projects or work extra hours to maximize their earnings.
Here are some popular freelancing platforms:
Freelancing offers numerous benefits, but it also presents certain challenges to consider. One drawback is the need for freelancers to invest time and effort into self-promotion to stand out in a competitive market. Also, they must have unique skills or a compelling value proposition to attract clients.
Pricing services can be challenging and requires considering market rates, project complexity, and client budgets. Also, keep in mind that freelance platforms often charge fees or commissions. These costs can cut into how much you earn, so budget the fees into your prices. On average, freelance platforms charge fees or commissions from around 5% to 20% of the total project value.
Freelancers can find opportunities in various industries, ranging from graphic design to web development, and they don't always need formal education. However, it may be beneficial to have a degree to stand out. The required experience level can vary depending on the industry and client preferences.
Renting out assets can be an effective way to earn quick cash when you're in a tight spot. For instance, you may have items around your home that you don't regularly use, such as sports equipment, tools, or household items, that could be rented out. Various websites and apps, such as PeerRenters or RentNotBuy, allow you to rent out these types of assets.
Here are some examples of items you could rent out:
Sports equipment such as bicycles, kayaks, or snowboards
Tools and equipment for DIY projects or home repairs
Musical instruments or audio equipment
Cameras or photography gear
Baby gear such as strollers or car seats
Before renting out any items, be sure to carefully read the terms and conditions of the platform to understand how they handle any damages or losses. It's also worth setting clear expectations with the renter to avoid misunderstandings.
The amount you can earn from renting out your items will vary based on the type of item and the demand for it. Check the rates offered by similar listings on the platform to price your item competitively.
Sign Up for Gig Platforms
If you want to earn extra cash quickly, consider signing up for gig platforms. There are a variety of gig platforms available, ranging from transportation services like Uber and Lyft to food delivery services like DoorDash and Instacart, as well as platforms like TaskRabbit that offer a variety of odd jobs.
Here are some qualifications and requirements for these platforms:
Age Requirement: Typically, 21 years old or older, but can vary by location.
Valid Driver's License: A driver's license with a minimum driving experience (often one year or more).
Vehicle Requirements: A four-door car in good condition (specific year requirements may apply).
Insurance: Personal auto insurance.
Age Requirement: Usually 18 years old or older.
Vehicle Requirements: A mode of transportation (car, motorcycle, scooter, or bicycle) with a valid driver's license, insurance, and registration.
Smartphone: A smartphone compatible with the DoorDash driver app.
Age Requirement: Generally, 18 years old or older.
Vehicle Requirements: No specific vehicle is required; you can do shopping and delivery on foot or by using any mode of transportation.
Smartphone: A smartphone compatible with the Instacart shopper app.
Age Requirement: Typically, 18 years old or older.
Skills and Experience: Qualifications may vary based on the specific tasks available on the platform.
Background Check: TaskRabbit performs background checks on its taskers.
Smartphone: A smartphone to access and manage tasks through the TaskRabbit app.
For workers, gig platforms provide a flexible work schedule, allowing individuals to choose when and how much they work, which is often impossible in traditional jobs. This flexibility can be particularly beneficial for people juggling multiple responsibilities, such as students, parents, or those with other jobs.
Also, the gig economy can provide an opportunity for supplemental income, often paid out relatively quickly, which can be vital in times of unexpected financial strain. Furthermore, it can serve as an entry point for individuals who may find it challenging to enter the traditional labor market due to a lack of experience or long periods of unemployment.
However, gig work can also have its downsides. Income can be unpredictable and inconsistent, making budgeting and financial planning difficult. Depending on the platform and type of work, you may also need to pay for additional expenses like gas or equipment.
Gig workers are often classified as independent contractors, which means they may not have access to benefits like health insurance, paid time off, or retirement plans. Finally, depending on the type of work, potential risks may be involved, such as car accidents or injuries while performing manual labor tasks.
Work as Event Staff
If you're looking to earn quick cash, working as an event staff is another good option. As event staff, you may be responsible for various tasks such as setting up and taking down equipment, directing guests, checking tickets, or serving food and drinks.
These gigs offer flexible schedules and typically require little to no experience. Also, many of these events occur on weekends or in the evenings, allowing you to work full-time and earn extra income as event staff.
You can find event staff opportunities by searching online job platforms or reaching out to staffing agencies that specialize in these roles. These agencies can provide training and guidance to help you become an effective event staff member, making it easy to enter the field and start earning fast cash.
Credit Card Options for Fast Cash
Credit cards may offer options for emergency cash but should be used with caution due to potentially high costs:
Cash Advances: A cash advance from your credit card comes with high fees and interest rates. The interest begins accruing instantly, and there's no grace period, making it a last-resort option.
Balance Transfers: Transferring high-interest balances to a lower-interest card can save money but beware of balance transfer fees which could be around 3% of the transferred sum.
Rewards Programs: These offer cash-back or points redeemable for cash, but remember, you must spend to earn. Use only for essential purchases to avoid unnecessary spending.
Disclaimer: Using credit cards for emergency cash should be viewed as a last-ditch strategy due to potential debt accumulation and financial instability.
Loan Options for Those in Need of Money Now
Alongside credit cards, loans are also an option for people needing fast money.
Request a Loan Today*
*By filling out the form above, you will be routed to OpenCashAdvance.com's loan request form.
Below is a list of loans that may help you address urgent financial needs:
Personal Loans: Personal loans are unsecured, meaning you don't need to provide collateral such as a house or car. You can apply for a personal loan through banks, credit unions, or online lenders. The loan amount, interest rate, and repayment terms are determined based on your credit history, income, and debt-to-income ratio.
Personal loans often come with fixed interest rates, allowing you to budget your repayment more easily. Most lenders disburse the funds in a lump sum. Repayment terms can range from a few months to several years, depending on the loan amount and agreement. Carefully review the terms and fees associated with the loan before proceeding.
Payday Loans: Payday loans and short-term cash advance loans are designed to provide fast cash until your next paycheck. They may offer quick access to funds and have minimal requirements. If approved, you may be able to receive funds in as little as one day.
Additionally, payday loans are unsecured, meaning you don't need to provide collateral to secure the loan. However, payday loans come with several drawbacks. One significant disadvantage is their high interest rates, which can result in a significantly higher annual percentage rate (APR). Additionally, payday loans typically have a short repayment period, usually due on your next payday.
Title Loans: Title loans allow you to borrow money using your vehicle as collateral. You can get a title loan online as well, but you must own a car outright and provide the title to the lender. The loan amount is determined based on the value of your vehicle. While title loans offer quick access to cash, they come with significant risks.
If you fail to repay the loan within the agreed-upon terms, the lender can repossess your vehicle. Additionally, title loans often have high interest rates and fees, making them an expensive borrowing option. It's crucial to carefully evaluate the terms and consider alternative options before pursuing a title loan.
Recap of 8 Ways to Find Fast Cash
Ask family or friends for financial help
Sell unused items
Get a freelance job
Rent equipment and tools
Sign up for gig platforms
Work as event staff
Consider credit card and loan options
I Need Money Desperately: FAQ
In this FAQ, we'll explore some common questions and answers about getting access to money quickly so that you can make informed decisions and find a solution that works for you.
How Can I Make $500 Fast?
Looking to make $500 quickly? Here's how:
Sell Unneeded Items: Sell items you don't use on platforms like eBay, Craigslist, or Facebook Marketplace.
Freelance: Use your skills to provide services on Fiverr or Upwork.
Online Surveys: Participate in paid surveys, though earnings may be small.
Ride-Sharing: Drive for Uber or Lyft to earn extra income.
Odd Jobs: Advertise services like yard work, cleaning, or pet sitting on Craigslist or Nextdoor.
How to Figure Out Which Fast Cash Option Works Best for You?
In determining the best fast cash option, consider the following:
Urgency: How quickly you need the money impacts your choice, with immediate options like borrowing from relatives or longer-term ones like freelancing.
Resources: Evaluate your assets and skills. Valuable items can be sold for quick cash, while skills may be leveraged for freelance work.
Skills and Interests: Align opportunities with your abilities and preferences. Marketable skills suit freelancing, while people skills are useful in event staffing.
Financial Impact: Understand the financial consequences of each choice. Loans and credit cards carry interest and fees, affecting your long-term stability.
Comfort Level: Consider your comfort with each option. Some might prefer asking for help from close ones, while others may seek independent options.