EarnIn Payday Advance App Review
Available for Android and iOS, EarnIn makes it so workers can take an advance on their upcoming paycheck without having to pay interest on the money borrowed. Learn more about the app and some of its rivals.
For U.S. consumers who are short on cash before payday, a cash advance serves as an option for quick money sent directly to the bank account. The EarnIn cash advance app makes borrowing from yourself even easier, and with next-business-day funding or sooner, it's one of the fastest options out there.
Request a Loan Today*
*By filling out the form above, you will be routed to OpenCashAdvance.com's loan request form.
Best Payday Advance Apps
Here are eight of the top cash advance apps on Android and iOS. We start with our favorite, EarnIn, and then discuss other popular options.
EarnIn
The EarnIn Cash Advance app is different from requesting a cash advance online. The app lets you access money that you have already earned but have not been paid for yet. It works by downloading your timecard, accessing your GPS, and verifying that you were at your job.
The EarnIn app lets you take a small amount of the income you have already earned. There are limits. There are rules. But there is no interest, and the money is automatically deducted from your account when your direct deposit goes in, so there is no way not to pay them back. They do not charge interest on the loans, but they do accept tips for their service. They are not employer-sponsored, although other similar apps are.
You can cash out $100 per pay period, and the money is transferred to your bank account immediately. This amount can be increased to $500 in time with continued use of the app. There are bonuses available for referring friends. There are ways to thank friends for referring you. You can even use the app if you have a joint bank account, and the other person occasionally uses the app as well. Most workers can join EarnIn and download the EarnIn Cash Advance app.
With EarnIn, there is no way of extending your due date. That money will come out of your next paycheck. There are no monthly membership fees. If you absolutely need to take money out before your paycheck, EarnIn is a good way to do it.
Dave
With the Dave program, you can get an advance of $75 per paycheck. You can get your funds within three business days. If you need to expedite your paycheck advance, the Dave app will charge you $4.99 to get your money within 8 hours. They have budgeting tools and prediction alerts when you could be in danger of overdrafts in your account. They have a $1 a month membership fee, and while your payday advance is zero interest, you can leave tips, much like EarnIn.
In order to join Dave, you need to supply proof of consistent income. They are interested in truly helping you, so they also want proof that you have money left over in your account with which you can pay your bills. They also have a program called Sidehustle, which helps you find ways to earn supplemental income. You can even apply to such companies as Uber and DoorDash right from the Dave app.
You are responsible for paying your advance back, and they will even break it into payments with one due on payday and a smaller payment due the following week. If you don't pay them back, you run the risk of being banned from ever using their app again.
Branch
Branch is a payday advance program servicing employees of some of the largest hourly employers such as McDonalds, Target, and Lifetime Fitness Centers. Their focus is on teaching financial wellness. To use the app, you need to upload your shift schedule, where you work, your bank account, and pay date. The Branch app also gives you the opportunity to make more money by picking up shifts from other Branch users and fellow employees who need to swap shifts or give up their shifts.
With the Branch app, you can learn how to budget your money better. They will only allow you to take 5 percent of your paycheck for your first two loans. After two successful repayments, they will raise that amount to 10 percent. There are no raises beyond that available. They offer financial advice to help you practice learning how to avoid overdraft charges.
Branch turns over all their information to your employer, so your employer can monitor your spending. Some companies will use this information for promotions and layoffs, so use your Branch app responsibly.
MoneyLion
With MoneyLion, you are not just getting a payday loan when you need it. They offer a lot more, including two different membership options. There is a free membership where you can open your bank accounts through them and get your paycheck advances at no interest. They will help you monitor your spending and your credit. They will help you learn to invest, and they like to see you make money. There is a second membership called the MoneyLion Plus membership. This membership costs $29.00 a month but gives you the opportunity to take a Credit Builder Loan for up to $500 at an interest rate of 5.99 percent. You cannot have multiple loans out at the same time. For every day that you log into the MoneyLion app, you receive $1 cash back in your account. Deposits are fast, and they help you monitor both your credit and your spending.
DailyPay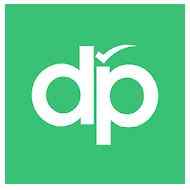 DailyPay is another employer-sponsored program for employees and contractors. Once you connect your bank account and your timecard, they give you access to money you have already earned. The money is transferred quickly and will come out of your next direct deposit paycheck.
The DailyPay app will assess a fee as low as $1.25 per transaction for payments received the next day and $2.99 for instant money transfer. DailyPay takes financial responsibility very seriously and will work to train your employees to be more fiscally responsible. They will teach them how to budget, save, and plan for retirement. There is no monthly membership fee, nor is there a limit on how much money you can borrow from the money you have already earned.
BrigIt
Joining BrigIt offers a similar experience to EarnIn, but they have a few additional services that are helpful. You connect BrigIt to your timecard and your bank account. Their limit is $250 per paycheck. They will send you an alert 24 hours before your scheduled payment, and if needed, will extend your due date. They do analyze your spending and will send you notifications for overdraft prediction. Their hope is to help you budget appropriately.
With the BrigIt app, you will have a monthly membership fee of $9.99 per month. Like EarnIn, there is no interest on payments or additional fees. They are not employer-sponsored, and unlike EarnIn, it takes at least two business days for the money to transfer into your account. They do not allow joint accounts for their members.
In many ways, with a higher base limit of $250, they can be more useful for some consumers.
FlexWage
FlexWage is an employer-sponsored program that also comes with an app similar to EarnIn. The employer provides the employees with a link to join FlexWage, and once you join, you can apply for a FlexWage debit card, which is issued in a matter of days. The employer sets the limits for how much money can be advanced on your paycheck, and payment is taken out of your next direct deposit. FlexWage is considered to be an employee benefit as opposed to just an advance service. You can choose to add funds to your FlexWage debit card.
With the FlexWage app, the employer establishes limits that are not just to the amount you can take each pay period. It will also limit how many times you are able to use the service every year. There is also a transaction fee taken when you pay them back. Your employer sets all fees and limits. FlexWage charges a $4.95 inactivity fee if you let your card go inactive for over six months. You can cancel your membership at any time.
FlexWage also helps you with financial responsibility through the Sum180 Program. This program gives you access to financial advisors and debt consultants. They can help you learn how to budget, save, and even invest. You cannot join FlexWage unless your employer is a member, and the only way you can get access to it is through your employer.
PayActiv
PayActiv markets itself as a financial wellness service.
It is employer-sponsored and therefore is an employee benefit.
While there is zero interest on the money you get as an advance, there is a $5 fee per pay period assessed when you use the service.
The app also has tools to help you pay bills, budget, and save.
A Brief History of Payday Loans
Originally, the process of borrowing against your upcoming paycheck was kind of complicated. You would show the lender copies of your paychecks and bank statements. They would ask you to postdate a check that included a fee, and on your next payday, you could do one of the following:
Let them cash the check
Buy your check back
Pay the interest and extend the loan
Payday loans are still available in this format. But there is new technology out there, too. As we mentioned above, a cash advance app can sync up with your timecard, allowing you to get paid soon after you work your hours.
Risks of Using Payday Advance Apps
One risk of using cash advance apps is getting used to spending your paycheck before you get it. While the applications make it easy to get your money sooner, there are benefits to waiting, like avoiding impulsive purchasing decisions and not rolling over old debt into new debt.
However, the reality is that emergencies do come up, and they do need to be dealt with. And they almost always cost money.
Many of these payday advance apps are helpful in other ways by offering financial responsibility options such as credit monitoring, overdraft prediction, and accounts to help you learn to invest and save.
Financial Responsibility
Financial responsibility is a key part of becoming an adult, getting a job, and paying your bills. You need to weigh your priorities as to how much money you earn. Payday advance apps can help with this. With EarnIn, you can get advances in a relatively controllable dollar amount. Many of these apps include built-in limitations put there to keep you from borrowing too much too often. They will not allow you to take money out of every paycheck, which encourages you to be responsible.
If you find yourself constantly short between paychecks, you may need more help than the financial tools offered through any of these apps. You should assess your budget at least a few times a year.
Financial Wellness
Most of these programs include tools to help you with your financial wellness. Companies like EarnIn try to help you by allowing payday advances for more than one individual in your home on your joint bank account. They provide you with opportunities for referral bonuses and for transferring money between friends. Their main drawback is the inability to change payback dates. Some of the other cash advance apps and payday loan apps will offer you interest-free accounts.
When investigating similar apps, it is a good idea to watch out for membership fees, although a membership fee shouldn't always be a non-starter. MoneyLion's membership fee, for instance, can be earned back each month, and through their Plus program, you can improve your credit score by occasionally taking and paying back one of their Credit Builder Loans.